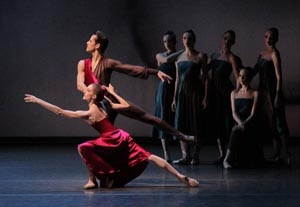 The preeminent choreographer and New York City Ballet founder George Balanchine famously said, "There are no new steps, only new combinations." This year NYCB salutes the 20th anniversary of the company's fostering and presentation of new ballets with this special evening sponsored by its New Combinations Fund. A hallmark event, it comprised three ballets by Christopher Wheeldon, marking NYCB's first-ever all-Wheeldon program.
The proceedings began with the premiere of "Les Carillons," a luscious work that reminds us why Wheeldon is hailed as a great ballet choreographer. His inventiveness is subtle and elegant, not glaring or quirky. Nestled within harmoniously flowing phrases of classical vocabulary come tiny surprises that make you gasp or giggle. Set to the powerfully romantic "L'Arlésienne Suites" by Georges Bizet, Wheeldon's work evokes the formality of a court dance as well as the structured freedom of a theme and variations. Grandiose thematic steps are mixed with unexpected actions. After big cabrioles the men descend to their knees, where they quickly dust the floor with graceful sweeps of their hands. Swirling phrases are punctuated with sharp, bent-knee
changements
. Instead of resolving into a stationary pose, a quartet ends in a suspension, the women perched sideways across their partner's hips. Cartwheels are done on forearms rather than hands. And in an original take—a gender-role reversal—on the common image of two bodies making parallel lines in different planes or levels, the ballerina takes a low diagonal lunge while her male partner assumes an arabesque behind her.
Adding to the work's visual intrigue are the opposing aesthetics of Mark Zappone's costumes—velvety winter-colored strapless gowns for the women and unitards for the men—and Jean-Marc Puissant's backdrop, a dripped-paint design in black, white, and shades of gray. While individually it may feel like Renaissance courtiers colliding with Jackson Pollock, viewed together under Mary Louise Geiger's pastel-colored lighting and animated by the dancers, the contrasts prove postmodernly sublime.
In the evening's performance of "Polyphonia," the 2001 work that established Wheeldon as a powerhouse choreographer, Jennie Somogyi suffered an injury mid–pas de deux and limped offstage. Though a subsequent trio movement was then danced as a duet, trouper Tiler Peck got into costume and within minutes was onstage filling in.
The evening closed with "DGV: Danse à Grande Vitesse," an interestingly choreographed 2006 work with striking sets and costumes by Puissant, made unbearable by Michael Nyman's brassy, disjointed score.
Presented by New York City Ballet at the David H. Koch Theater, 20 Lincoln Center Plaza, NYC. Jan. 28–Feb. 5. Schedule varies. (212) 496-0600 or www.nycballet.com.