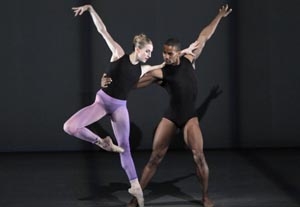 The main event of the New York City Ballet's performance Friday night, May 14, was the world premiere of "Outlier," an edgy ensemble work created by modern dancer Wayne McGregor, resident choreographer of England's Royal Ballet. The quirky new work will be presented throughout the week as part of the company's spring repertory season, which continues through June 27 and will feature five more premieres by different choreographers.
Set to a tense violin concerto by contemporary British composer Thomas Adès, "Outlier" is busily built of squirmy squiggles of movement and tight partner work, in which the women dutifully discharge high leg extensions and unorthodox stretches. But the ballet belongs to the men. The female dancers are mainly manipulated, lifted, turned upside down, and dragged around, while the men revel in solo, duo, and group passages of stylish contemporary dance that infuse the ballet lexicon with jazzy leg actions and weighted fluidity. Robert Fairchild emerged as the stand-out performer among the ballet's 11-member cast as he embraced McGregor's peculiar vocabulary with a snazzy enthusiasm.
The program book-ended the experimental McGregor ballet with smartly-cast performances of two contrasting George Balanchine classics: the dreamy "Serenade," which premiered in 1935, and the rousing showpiece "Cortège Hongrois," choreographed in 1973. Spunky Megan Fairchild, willowy Kaitlyn Gilliland, and the incomparably graceful Jenifer Ringer brought wonderfully dissimilar qualities to the three leading roles in "Serenade." With its ideal wedding of ethereal movement and the luscious sounds of Tschaikovsky's "Serenade for Strings," the ballet is infinitely enchanting, a work one can watch over and over with never-diminishing satisfaction.
Shapely, big-boned, blonde ballerina Sara Mearns stole the evening with her commanding performance of the principal role in the Hungarian folk dance-flavored "Cortège Hongrois." Mearns's regal persona was precisely complemented by the aristocratic presence of her partner Jonathan Stafford.  And the
corps de ballet
dancers— who have hefty workloads in this piece—contributed immeasurably to the proceedings' exhilarating pageantry.   
Presented by the New York City Ballet at the David H. Koch Theater on the Lincoln Center Plaza, Columbus Ave. and 63rd St
.,
NYC. May 14
–
June 27. Tue
.–
Wed
.,
7:30 p.m
.;
Thu
.–
Fri
.,
8 p.m
.;
Sat
.,
2 and 8 p.m
.;
Sun
.,
3 p.m
. (
212
)
721-6500 or nycballet.com
.