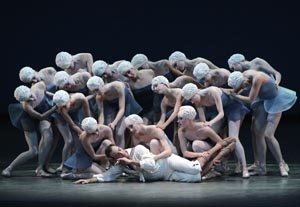 For its first-ever fall season at Lincoln Center, New York City Ballet is offering four weeks of mixed bills that most notably are giving audiences a chance to catch up with some of the new ballets they may have missed from the company's Architecture of Dance Festival. Presented last spring, the festival comprised premieres of seven new works, four of which are being shown again this fall. In its Sept. 23 performance, the company presented two of the finest ballets from the festival: Christopher Wheeldon's touching story ballet "Estancia" and Alexei Ratmansky's tongue-in-cheek "Namouna, a Grand Divertissement."
Set to an expressive Alberto Ginastera score that was inspired by a poem about conflict between Argentine gauchos and city slickers, "Estancia" looks like it could have been choreographed by Agnes de Mille. Aside from a few funky body shapes that feel freshly contrived, Wheeldon's choreography blends stylized gesture, ballet technique, and sweeping lifts to an uncannily de Milleian end. One of the few ballet choreographers of his generation who really knows how to tell a story through dance, Wheeldon lets the characters' emotions drive every move of his ballet-dancing cowboys and their womenfolk. And plucky Adrian Danchig-Waring is perfectly cast as the city boy trying to win over a country girl.
A splendiferously grandiose yet silly ballet, "Namouna" exploits the choreographic clichés of classical ballet and entertainment spectaculars. But while familiar, all the images are mixed up, as in an illogical dream. A corps de ballet sporting 1920s-style bobs opens the piece with Busby Berkeley–style precision choreography. The leading man, a sailor searching for his love, encounters a Middle Eastern slave owner whose two assistants seem to be bugs, as well as a cigarette-smoking seductress, an army of silver-helmeted soldiers, a glamorous diva, and a group of women in wavy white bathing caps. Though the ballet doesn't make sense, its Édouard Lalo score is delightful, and the choreography is fun, fast-paced, and easy on the eyes.
Completing the evening was George Balanchine's stark classic "Stravinsky Violin Concerto," to which Sterling Hyltin brought a warm, spirited quality that made Maria Kowroski's performance (in the other principal female role) feel bland and superficial in comparison.
Presented by New York City Ballet at the David H. Koch Theater, 20 Lincoln Center Plaza, NYC. Sept. 14–Oct. 10. Tue. and Wed., 7:30 p.m.; Thu. and Fri., 8 p.m.; Sat., 2 and 8 p.m.; Sun., 3 p.m. (212) 721-6500 or www.nycballet.com.