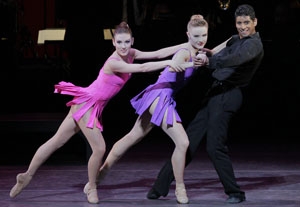 The anticipated event of New York City Ballet's winter repertory season this year was the premiere of "Frankie and Johnny…and Rose," a new 15-minute ballet by Broadway choreographer Susan Stroman, created as a companion piece to "Blossom Got Kissed," a 14-minute work Stroman made for the company in 1999. Paired under the title "For the Love of Duke" (both pieces are set to music by Duke Ellington and Billy Strayhorn), the ballets formed the closing segment of the spectacular program danced by the troupe on Feb. 3.
Sadly, the Stroman premiere, presented as the first half of the two-part work, was the least interesting ballet of the evening. Driven by a love-triangle narrative, the lulling, uninventive dance is built of conventional, overly familiar simple ballet movements. While Stroman is well-known for bringing an innovative use of dance to the Broadway musical, the striking imaginativeness of her theater choreography lies largely in the ingenious, often humorous interactions she devises between performers and props or set pieces. Here, with just three dancers and a plain low-level rectangular platform, Stroman fails to captivate us. Nonetheless, the ballet is an entertaining experience, due to a beguiling performance by Sara Mearns as the sexpot Frankie and to the David Berger Jazz Orchestra, whose live onstage musical accompaniment provides a real treat.
The other Stroman piece proves far more successful choreographically. While it features Savannah Lowery as a dorky ballerina who can't "swing" until she gets kissed by a handsome man (charmingly portrayed by Robert Fairchild), most of the choreography involves an ensemble of couples heavily seasoning their ballet technique with swing-dance style and lot of steps and lifts borrowed from vernacular dances of the 1930s. Slickly costumed by William Ivey Long, the ballet-trained cast, particularly the men, convincingly capture the look, feel, and pizzazz of the period.
Completing the program were a sparkling performance of George Balanchine's superb "Divertimento No. 15" and a virtually flawless rendition of Christopher Wheeldon's entrancing "Polyphonia." Choreographed in 2001, "Polyphonia" remains one of the most musically intelligent contemporary ballets ever made. Its movements sit beautifully and purposefully on the notes and nuances of a spare Ligeti piano score, wondrously magnifying the music's mysterious expressive qualities.

Presented by the New York City Ballet at the David H. Koch Theater, 20 Lincoln Center Plaza, NYC. Jan. 18–Feb. 27. Tue. and Wed., 7:30 p.m.; Thu. and Fri., 8 p.m.; Sat., 2 and 8 p.m.; Sun., 3 p.m. (212) 721-6500 or www.nycballet.com.