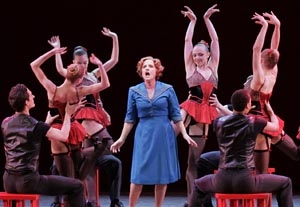 Broadway star Patti LuPone's debut with the New York City Ballet may have been the drawing card, but it was not her talents alone that made the company's May 12 performance a sublime affair. This week, the mixed-bill programs of NYCB's spring repertory season revolve around a new production of the ballet chanté "The Seven Deadly Sins," in which singer LuPone and dancer Wendy Whelan portray two sides of the central character, Anna. While the evening's centerpiece is choreographically less eventful than expected, it is musically and visually stunning, and bookended by alluring renditions of brilliant George Balanchine ballets.
Directed and choreographed by Lynne Taylor-Corbett, with chilling music by Kurt Weill and biting text by Bertolt Brecht (in an English translation by W.H. Auden and Chester Kallman), "The Seven Deadly Sins" traces the degrading adventures of a young woman journeying through America's major cities as she tries to earn enough money to buy a mansion for her poor family in Louisiana. Aided immensely by Beowulf Boritt's striking set pieces and Judanna Lynn's stylish costumes, Taylor-Corbett's clever and efficient staging whisks the action dazzlingly from the bayou to a sleazy cabaret, a Hollywood movie set, a high-fashion photo shoot, a cheap hotel room, and a ritzy palace.
But, as often happens with director-choreographers of Broadway musicals, Taylor-Corbett appears to have given less attention to the development of her choreography than to the organic flow and dramatic impact of the overall proceedings. Though the many ensemble dance sequences are stylistically right-on and contribute to succinct depictions of mood and locale, the bare-bones movement vocabulary is remarkably uninteresting rhythmically, frequently placing just one simple move on each beat of the music. 
While LuPone shines as Anna 1—the range, character, and penetrating qualities of the vocal score sit perfectly in her voice—Whelan, as Anna 2, feels underused. And though Sara Mearns and Craig Hall give solid performances in secondary dance roles, it's the robust voices of the male quartet depicting Anna's family that provide the more powerful theatrical support. 
The evening opened with two splendid performances by Teresa Reichlen. She brought an appropriate aristocratic austerity to the principal role in "Monumentum Pro Gesualdo" and proved equally effective in the ballet's companion piece, "Movements for Piano and Orchestra," her lanky limbs gloriously embracing the quirky percussive actions that Balanchine devised to mirror Stravinsky's oddball, arrhythmic score. Then the exquisite Tiler Peck, assuredly partnered by Andrew Veyette, danced "Tschaikovsky Pas de Deux" with all of the grandeur and virtuosity this crowd-pleasing showpiece requires.
Closing the program was a delicious performance of "Vienna Waltzes," a spellbinding ballet in which Balanchine serves up a buffet of sumptuous group waltzes, peppered by a polka. 
Presented by the New York City Ballet at the David H. Koch Theater, 20 Lincoln Center Plaza, NYC. May 3–June 12. "The Seven Deadly Sins" and "Vienna Waltzes" play through May 15. "Monumentum Pro Gesualdo," "Movements for Piano and Orchestra," and "Tschaikovsky Pas de Deux" play through June 12. Tue.–Wed., 7:30 p.m.; Thu.–Sat., 8 p.m.; Sat., 2 p.m.; Sun., 3 p.m. (212) 721-6500 or www.nycballet.com.