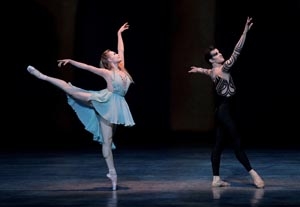 Though the composer and librettist of "Ocean's Kingdom," Sir Paul McCartney, the former Beatle, was certainly the biggest celebrity in the house at the premiere Sept. 22, the real star of the show is his daughter, the ballet's costume designer Stella McCartney.
Adroitly performed by the New York City Ballet, the 50-minute work is simplistically choreographed by the company's ballet master in chief, Peter Martins. There is not a fresh, original, or unfamiliar movement in the whole ballet, and for a narrative piece the choreography is remarkably devoid of individualized gestures or body actions expressing character traits or plot points. The dancers do endless streams of ballet walks around the stage and execute boring phrases of basic neoclassical vocabulary and repetitious lifts.
The ballet's happy-ending love story centers on Honorata, an underwater kingdom's princess, who falls in love with the earthly Prince Stone and is kidnapped by his evil brother King Terra, who desires her for himself. While Martins' inadequate choreography communicates very little of the story, the drama is conveyed largely through McCartney's titillating yet overorchestrated (by Andrew Cottee) score and Mark Stanley's elegant lighting effects. Even before the curtain rises, the space is bathed in cool blue illumination that conjures a calming aquatic atmosphere, and when Honorata is imprisoned by her earthly captors, the bars of her cage are depicted by altitudinous columns of revolving white light that feel as restraining as iron bars yet are mysteriously ravishing to behold.
But what really capture the eye are the entertaining costumes. Much of the time I found myself studying the performers' attire rather than watching their dancing. The filmy blue-green frocks of the Water Maidens contrast stunningly with the Terra Punks' gorgeous brown-toned unitards, which sport intricate Native American–influenced designs, and with the shockingly sunny outfits of the Entertainers and the hilarious striped suits of the Drunken Lords.
Seemingly compensating for the choreography's lack of dramatic effect, Robert Fairchild and Amar Ramasar (in the roles of Prince Stone and King Terra, respectively) imbue their performances with an abundance of athletic energy and heavy-duty acting. Unfortunately, faced with so little to do, the normally spectacular Sara Mearns makes a bland Honorato.
The most exciting choreographic moment of the evening occurred when the 69-year-old McCartney was introduced. Seated in the first ring and looking as cute as ever, he stood up and gave the adoring fans a few seconds of air guitar.
Presented by New York City Ballet at the David H. Koch Theater, 20 Lincoln Center Plaza, NYC. Sept. 22–29. Tue. and Thu., 7:30 p.m.; Sat., 2 p.m.; Sun., 3 p.m. (212) 496-0600 or www.nycballet.com.