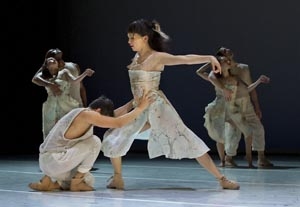 Celebrating its 40th anniversary, the San Francisco–based contemporary dance troupe ODC/Dance is presenting a weeklong season at the Joyce Theater with a stimulating program that shows the opposite choreographic strengths of artistic director and founder Brenda Way and co-artistic director K.T. Nelson.
Enticingly performed by the top-notch 10-member company, the program opens with Nelson's "Stomp a Waltz." A shrewd fusion of slick modern movements and explosive athleticism set to propulsive string music, the piece is launched by an intriguing body percussion sequence and introduction of wonderfully stylish and rhythmic movement vocabulary. Yet while Nelson's striking physical lexicon initially captivates, and her deft fragmentation of the stage space makes strong statements about social disconnectedness, her lively ensemble work fails to develop and grows less interesting as it progresses.
Way, on the other hand, is a master of choreographic development. In the program closer, "Investigating Grace," a lengthy group piece set to Glenn Gould's 1955 recording of Bach's "Goldberg Variations," Way makes an engrossing dance out of humdrum movement vocabulary. The piece is thoroughly gratifying yet built of uninteresting, isolated actions spliced into randomly ordered phrases: a leg steps forward, the hips move right and left, the head drops back, the arms windmill, an ankle flexes, a shoulder rolls. Once Way goes to work on her thematic material, however, manipulating it with expert musicality and expressiveness, the piece soars. A silly backward foot lift evolves into the bent back leg of grand jetés that gloriously propel a woman over a quartet of rolling men. Flat, arbitrary moves evolve into wowing entertainment when performed by a soloist with supersonic speed. And the discovery of humor, lyricism, and weight within simple actions evokes varying emotions that keenly reflect the changing moods of the music.
Completing the program is Way's "Waving Not Drowning (A Guide to Elegance)," set to a delightfully dated text from a 1963 French advice manual on feminine manners and fashion. Young women are advised never to wear black in the morning and to be scatterbrained, tenderhearted, and helpless if they want to appeal to the opposite sex. Though Way sometimes employs images of mannequins and manipulation to put forth a feminist message, the choreography consists largely of nonliteral movement that relies on the context of the accompanying text to give it meaning.
Presented by ODC/Dance, in association with the Joyce Theater Foundation, at the Joyce Theater, 175 Eighth Ave., NYC. Aug. 9–13. Tue. and Wed., 7:30 p.m.; Thu.–Sat., 8 p.m. (212) 242-0800 or www.joyce.org.