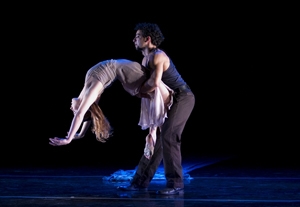 Though a few dark moments creep into its second act, the bill performed by Parsons Dance on the opening night of its two-week, three-program season at the Joyce Theater can be aptly described as light. The company's "Program A" is lighthearted in mood, lightweight in content, and features six pieces by the troupe's artistic director, David Parsons, whose choreographic style might be tagged "modern dance lite." While grounded in selective borrowings from classical ballet, Graham technique, and Paul Taylor, Parsons' movement vocabulary is perky, quirky, bustling, sometimes witty, and often just plain silly-looking. Yet out of this buoyant lexicon he conjures pieces that are intricate, expressive, and engaging.
The main events of the enjoyable evening were the world premieres of "Run to You," an attractively crafted, mainly sunny-toned ensemble work set to a pleasurable collection of Steely Dan music, and the dramatic duet "Portinari." Though "Run to You" contains one edgy sequence exploring negative aspects of human relationships, "Portinari" constitutes the program's only grave offering. Parsons employs wrenching body actions and exciting pas de deux work to portray the story of Brazilian artist Candido Portinari, who painted the "War" and "Peace" murals displayed in the U.N. General Assembly Building and then died of lead poisoning from the paints he used. But despite the sad subject matter, the dance evokes more tenderness and caring than grief.
The premieres book-ended Miguel Quinones' thrilling performance of "Caught," Parsons' brilliantly conceived signature solo, in which, by performing more than 100 leaps in less than six minutes while illuminated by stroboscopic effects, the dancer appears to remain suspended in midair.
Completing the evening was a mostly fun-filled first act comprising three lively ensemble works: "The Envelope," which involves a group of black-hooded characters in dark sunglasses humorously manipulating a pesky, all-important, mysterious white envelope; "Sleep Study," built of cute abstractions of the rolls, twitches, and shifts of positions we do in our sleep; and "Mood Swing," an awkward assemblage of unflattering movements set to wonderfully jazzy music by Morton Gould.
Presented by Parsons Dance, in association with the Joyce Theater Foundation, at the Joyce Theater, 175 Eighth Ave., NYC. Jan. 26–Feb. 6. Tue. and Wed., 7:30 p.m.; Thu. and Fri., 8 p.m.; Sat., 2 and 8 p.m.; Sun. 2 and 7:30 p.m. (212) 242-0800 or www.joyce.org.