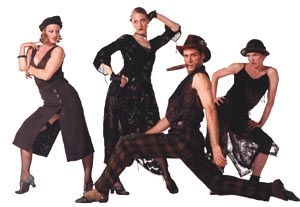 Typically, a performance by Paul Taylor Dance Company is a thoroughly sublime affair. Though the troupe's repertory consists solely of works by Taylor, the venerated choreographer's vast oeuvre is gratifyingly varied in tone, content, and style, and his dancers are always unusually appealing and extraordinarily gifted.
However, currently ensconced at New York City Center for a two-week season, the company proffered an uneven triple bill on Feb. 24 that sandwiched the off-putting "Brief Encounters" between an enchanting performance of "Black Tuesday" and an uncomfortable-looking rendition of "Arden Court."
First presented in 1981, the frolicsome "Arden Court" suggests a pastoral romantic romp full of playful skittering, twirling, and bounding about. But with the clear exception of Michael Trusnovec, the men in the cast executed Taylor's signature runs with tight arms and bound shoulders that severely compromised the movement's sense of abandon. And the women often straightened their arms with a fierce percussive attack that undermined the harmonious design of the body shapes by calling too much attention to the piercing limbs.
Much more adroitly danced was the 2009 piece "Brief Encounters," which is marked by awkward insertions of bold humor that make its narcissistic characters largely unsympathetic. Costumed in sexy black underwear that makes them look like they stepped out of a Calvin Klein ad and is at aesthetic odds with the Gothic-archway backdrop (all designed by Santo Loquasto), the dancers don't enjoy relationships, just quick, edgy encounters with one another. The work leaves one feeling engulfed in a game of mean-spiritedness.
The evening's highpoint was the frighteningly timely (though choreographed in 2001) "Black Tuesday," Taylor's inspired homage to Americans' attempts to keep their spirits up during the Great Depression of the 1930s. To a delectable collection of popular songs of the period, bums and swells (ticklingly costumed by Loquasto) embrace vaudevillian antics and vernacular dances to poignant effect.
The importance of individual morale is celebrated in a series of stirring solo turns, majestically rendered by Annmaria Mazzini, Jamie Rae Walker, and Trusnovec. Audiences can see a performance of "Black Tuesday" on March 1 for the "Great Depression special price" of $19.29 (for seats that normally sell for $25 to $150).
Presented by Paul Taylor Dance Company at New York City Center, 131 W. 55th St., NYC. Feb. 22–March 6.  Tue.–Thu., 7 p.m.; Fri., 8 p.m.; Sat., 3 and 8 p.m.; Sun., 3 and 7 p.m. (212) 581-1212 or www.nycitycenter.org.