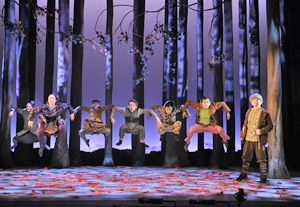 For the first time ever, the Prokofiev estate has allowed the composer's "Peter and the Wolf" to be performed in conjunction with a new work. The result is a delectable blend of live orchestral music, colorfully conducted by Craig Barna, and fun-filled contemporary choreography, imaginatively devised by Didy Veldman. Propelled by narration dramatically delivered by Brian Blessed, and conceived and directed by Anne Geenen, the production combines the Prokofiev classic—the musical story of a young boy, Peter, who captures a wolf with the help of a friendly bird, duck, and cat—with an original prequel that shows how Peter initially came to know his animal friends and the terrifying wolf. Composed by Philip Feeney, with text by Abi Bown, the clever prequel adopts the same form and intent as the Prokofiev piece—linking musical motifs to elements of a story in order to introduce children to the instruments of an orchestra—and connects seamlessly to the legendary 30-minute work, turning "Peter and the Wolf" into a full-evening affair.
Brought to New York's kid-friendly New Victory Theater by the British company In the Wings, the production is impressively fueled by a largely European creative team and cast. With her intricate and richly expressive choreography, Dutch dance-maker Veldman makes visible not only the literal events of the story but also the childlike sensibilities, distinct kinetic qualities, and assorted feelings that characterize the proceedings. Highly technical yet imbued with a natural playfulness, her work is beautifully executed by the show's nine terrific dancers, particularly the Italians Maurizio Montis (Peter) and Eva Grieco (Bird) and the Belgian Christian Celini (Duck).
The costumes by Yan Tax and Marie Lauwers are hit and miss. While Bird's red feathery tutu is inventively ravishing, and the overstuffed Duck's tacky yellow headpiece brilliantly complements his vaudevillian antics, the shiny silver Wolf looks more extraterrestrial than lupine. And when the esteemed British actor Blessed walked center stage to launch the performance sporting an unmanicured beard and drab clothing, he commanded little attention. Though his earth-toned outfit fits the story's forest setting, as the catalytic opening image of such a lively youth-oriented presentation, his look needs a bit more razzle-dazzle.
Presented by the New 42nd Street at the New Victory Theater, 209 W. 42nd St., NYC. Nov. 13–29. Fri., 7 p.m.; Sat. and Sun, noon and 5 p.m. (Additional performances Tue., Nov. 24, 7 p.m., and Wed., Nov. 25, and Fri., Nov. 27, 2 p.m.) (646) 223-3010 or www.newvictory.org.