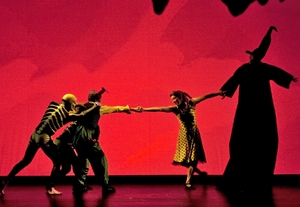 Judging from the opening performance, this year's incarnation of Pilobolus' annual four-week summer season at the Joyce Theater promises to be one of the most exciting ever. Despite the recent death of co-founder and co–artistic director Jonathan Wolken (from complications from a stem-cell transplant), the company is in top form and offering a sparkling array of physically wowing and theatrically tickling works. A remarkably accessible troupe, known for its imaginatively gymnastic, codependent group body configurations, Pilobolus is presenting three different programs, each containing a New York premiere.
The troupe kicked off the season with an eclectic evening of representative works from each program. Bravo to Winston Dynamite Brown, Jun Kuribayashi, Nile H. Russell, and Christopher Whitney for launching the show with an exquisite performance of the mesmerizing male quartet "Gnomen," choreographed by artistic directors Robby Barnett and Wolken, in collaboration with four former company members. (Virtually all of Pilobolus' pieces are collaboratively created by the dancers, under the leadership of one or more of the artistic directors.) "Gnomen" lets each performer take a turn at being an afflicted figure who is unable to blossom without the support of the group. Its awe-inspiring feats of strength infused with a tender, respectful tone make it a piece of breathtaking beauty.
Eriko Jimbo and Whitney gave deft interpretation to the vaudevillian antics of Wolken's "Hitched," in which clever physical intertwinings amusingly portray the frustrations of a married couple. Jenny Mendez exhibited superb clarity in artistic director Michael Tracy's stunning duet "Symbiosis," and the entire ensemble of Wolken's electrifying "Megawatt" brought impressive courage to the work's fierce, hip-hop-flavored maneuvers.
The evening's only disappointment was the meandering "Hapless Hooligan in 'Still Moving.' " Created by cartoonist Art Spiegelman and Tracy, the ambitious piece begins promisingly as silhouettes of the dancers are eye-catchingly embedded into large-screen projections of colorful animation. Telling a film noir–style love story involving a sad soul based on the cartoon character Happy Hooligan, the work abandons its fusion concept too early on and journeys into uninspired live-action dance scenes and protracted animated sequences that fail to cohere or engage.
Presented by the Joyce Theater in association with Pilobolus at the Joyce Theater, 175 Eighth Ave., NYC. July 12–Aug. 7. Mon–Wed., 7:30 p.m.; Thu. and Fri., 8 p.m.; Sat., 2 and 8 p.m. (212) 242-0800 or www.joyce.org.