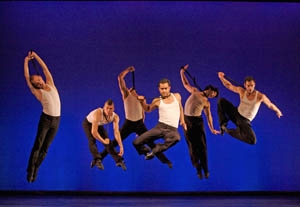 The breathtaking Rasta Thomas is an extraordinarily gifted ballet dancer whose jaw-dropping jumps never fail to astonish. With seemingly no preparation, he soars into the air, forms crystalline body shapes, and lands with a graceful, exquisite ease. A warm, boyishly disarming performer, Thomas is the founder of the Bad Boys of Dance, an appealing troupe of spectacular young male dancers who perform with him in "Rock the Ballet." A high-energy, pop music–driven revue of showy dance numbers, the touring production debuted in Germany last year and is now ensconced at the Joyce Theater, where its blatantly commercial shake-your-booty sensibilities feel terribly at odds with the venue's typically more sophisticated terpsichorean aesthetics.
While it is undeniably thrilling to watch Thomas and his awesome sidekicks tear up the stage with their startling leaps, acrobatics, and sexy dance tricks, as a friend said to me at the intermission, "What a waste." Extremely well-trained in a wide variety of classical and contemporary dance styles, these young men are at the top of their game and represent today's finest, fresh dance talent. But unfortunately, as the show's artistic director, Thomas did not have the good sense to hire a worthy choreographer. As a result, these magnificent dancers spend much of their time prancing about like they're in a cheesy music video, executing ridiculously watered-down hip-hop gestures and assuming silly come-on poses while interjecting glorious ballet maneuvers and stunning feats of athleticism whenever possible.
Set to an assemblage of well-known rock songs—largely by Michael Jackson, Prince, and Queen—the atrocious choreography was created by Thomas' wife, Adrienne Canterna-Thomas, who is a technically outstanding dancer and appears on stage as a guest artist. Though of questionable taste, the show's choreographic highlight is the one number created by Thomas, in which each guy is paired with a plastic doll, representing a prostitute, with whom he dances highly amusing and imaginative depictions of an evening of erotic episodes.
The production is danced against a swiftly changing background of pictorial images and computer animation—everything from scenes of Paris to abstractions of giant stereo speakers to projections of song lyrics. Designed by William Cusick, the visuals provide lots of fun activity but, like the overall performance, are sadly pointless.

Presented by the Joyce Theater Foundation in association with Rasta Thomas LLC at the Joyce Theater, 175 Eighth Ave., NYC. Dec. 15–Jan. 3. Tue. and Wed., 7:30 p.m.; Sat., 2 and 8 p.m.; Sun. 2 and 7:30 p.m. (No performance Sat., Dec. 19, 2 p.m.; additional performances Fri., Dec. 18, 8 p.m.; Wed., Dec. 30, 2 p.m., and Thu., Dec. 31, 5 p.m.) (212) 242-0800 or www.telecharge.com.