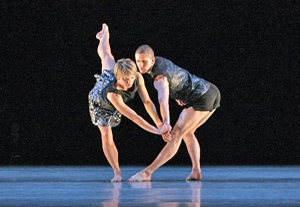 This pleasing program of three New York premieres choreographed by Richard Alston and presented by the London-based Richard Alston Dance Company shows how influential music can be on the aesthetic success or ineffectiveness of a choreographic work.
One of the U.K.'s most revered contemporary choreographers, Alston makes dances that feel proper and well-organized, exuding a stereotypically British sense of reserve and formality. His vocabulary is pristine and skill-based, often speedy, yet never oversized or astoundingly athletic. The movements seem to chop the body in half: legs darting sharply through angular, beating, and scissorlike actions of ballet allegro steps while the upper body tilts, spirals, and arches, evoking more gently energized modern-dance sensibilities. Alston's use of space is rudimentary, his ensemble patterning lacks intricacy, and his group work is marked by an abundance of unison dancing that makes the choreography appear dated.
When accompanied by the complex, bold, inventive music of Stravinsky in the evening's middle offering, "Movements From Petrushka," Alston's work looks simplistic, constrained, and insignificant in its attempt to portray the anguished puppet amid a crowd of carnival revelers. It doesn't help that the music is performed live by a pianist situated center stage, severely imposing on Alston's ability to make compelling dramatic use of the stage space.
However, for the opening and closing works—"Shuffle It Right," set to Hoagy Carmichael recordings, and "Blow Over," to "Songs From Liquid Days" by Philip Glass—Alston chose music that partners perfectly with his choreography. Alongside the relaxed, folksy quality of the Carmichael songs, Alston's dance, a suite of solos, duets, and ensembles, feels winningly bright and airy. And the quick comic movements—hip wiggles and clowning postures—that Alston inserts in reflection of the music's humor season the yummy proceedings with just the right dash of unsubtlety. In "Blow Over," the highly structured, repetitive minimalism of the Glass score solidly undergirds the clean, spare designs of Alston's large ensemble choreography. Also, the music's unadorned grandiosity seemed to push the performers to give more of themselves. While they danced throughout the evening with warmth and agility, here they projected greater authority, beauty, and purpose.
Presented by Richard Alston Dance Company, in association with the Joyce Theater Foundation at the Joyce Theater, 175 Eighth Ave., NYC. Jan. 12–17.  Tue. and Wed., 7:30 p.m.; Thu.–Sat., 8 p.m.; Sun., 2 p.m. (212) 242-0800 or www.telecharge.com.