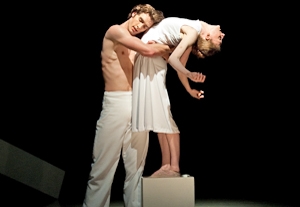 A versatile 17-member company, Virginia's Richmond Ballet opened its one-week season at the Joyce Theater with a vibrantly danced evening (Program A) of three fine contemporary ballets. (Program B, comprising three different works, is being performed in repertory.)
The highlight of the show was Jessica Lang's "To Familiar Spaces in Dream," a mini-masterpiece of choreographic craft that begins with a remarkable ensemble sequence of seemingly disconnected goings-on, out of which periodically emerge ravishingly harmonious tableaux of classical images blended into modernistic designs. As the cool-toned piece leisurely unfolds through sections of duos and trios, classical-movement qualities continue to merge with contemporary elements in what also becomes a marriage of kinetic and architectural explorations. While dancing, the performers continually slide, lift, turn, and rearrange six white pillars—two tall, three medium-sized, one short—and a cube. The reconfiguring of the set pieces is so seamlessly woven into the choreography that issues of body motion and spatial engineering become part and parcel of a magnificent movement whole.
The program opens with founding artistic director Stoner Winslett's handsome "Ancient Airs and Dances," a traditionally constructed ballet for four couples set to Ottorino Respighi's lush orchestrations of 17- and 18th-century French and Italian lute songs. While Winslett's uncomplicated movement phrases are built of familiar classical vocabulary that develops in foreseeable fashion, the ballet's predictability is of a most pleasing sort, a comfortable presentation of beauty as expected. Luxuriously attired in Renaissance period–inspired costumes, the dancers bring an innocent freshness to their execution of the antique steps, enriching the romantic aspects of the choreography. One gets the sense of young lovers feeling for the first time emotions they imagine no one has ever experienced before.
Completing the program is Mauricio Wainrot's "Voyages," an invigorating seven-part multicultural suite of contemporary dances set to contrasting selections of folk music from all over the world. Though undeniably entertaining, the movements do not always mesh with the varying musical flavors, as the choreography stays rooted throughout in Horton-based modern-dance vocabulary. We see only sprinklings of ethnic actions and very little stylistic variety, while the music journeys from Mongolian throat singing to what sounds like bluegrass fiddling, Scottish bagpipes, African chanting, gypsy songs, jigs, and bamboo flute tunes.
Presented by Richmond Ballet in association with the Joyce Theater Foundation at the Joyce Theater, 175 Eighth Ave., NYC. April 6–11. Program A: Tue. and Sun., 7:30 p.m.; Fri., 8 p.m.; Sat., 2 p.m. Program B: Wed., 7:30 p.m.; Thu. and Sat., 8 p.m.; Sun., 2 p.m. (212) 242-0800 or www.joyce.org.