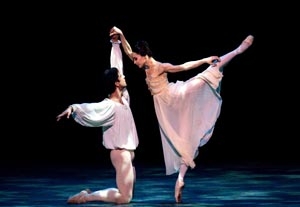 This
Romeo and Juliet
is the real deal. Even if you just saw New York City Ballet's hideous
Romeo
+
Juliet
this spring—or caught it on PBS in May—you'll want to forget that production's insipid choreography by Peter Martins and revisit Shakespeare's tragic love story at American Ballet Theatre.
ABT's definitive
Romeo and Juliet
has been magnificently choreographed by Sir Kenneth MacMillan and features resplendent Renaissance-period sets and costumes designed by Nicholas Georgiadis. Culminating the company's eight-week spring season at the Metropolitan Opera House,
Romeo and
Juliet's eight-show run kicked off with an electrifying opening-night performance danced by a stellar cast.
The spellbinding Diana Vishneva entrances with her effortless technique and firecracker energy while also creating a Juliet who exhibits rarely discovered complexities of character. Vishneva turns the story from a tale of two naive lovers into the psychological drama of an agitated young girl driven to near madness by the extreme emotional confusions brought on by surreptitious love, societal pressures, and parental authority.
Vishneva is sturdily supported by the towering and handsomely husky Marcelo Gomes, who, playing miraculously against his physical type, manages to convincingly convey Romeo's boyish innocence and youthful exuberance. With his distinguished acting and deft swordplay, the striking Isaac Stappas turns the role of Tybalt into the ballet's most memorable male character. As Mercutio, Herman Cornejo seems to be pushing too hard early in the evening but eventually settles into a relaxed confidence, letting his commanding technique and abundant charm work their magic.
The production is propelled throughout by the dramatic intensity of the ballet's familiar Prokofiev score, sharply conducted by Charles Barker. Briskly paced, with lots of lively ensemble dancing, humorous nuances, and compelling theatricality, the two-and-a-half-hour ballet flies by and leaves you wanting to see it all over again—and again and again.
Presented by American Ballet Theatreat the Metropolitan Opera House, Lincoln Center, West 64th Street and Broadway, NYC
.
July 6
–
11. Tue
.–
Thu
.,
7:30 p.m
.;
Fri. and Sat
.,
8 p.m
.;
Wed. and Sat
.,
2 p.m
.
(
212
)
362-6000 or www.abt.org
.