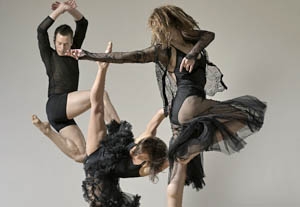 If only Ron De Jesús had an editor. It could have turned the wearisome evening of his meandering choreography into a show of spectacular dancing. De Jesús' four protracted contemporary dance works, presented at Joyce SoHo, would all be 10 times better if they were each half as long.
De Jesús' pieces all begin by setting forth an intriguingly original concept, usually of a foreboding nature. But instead of delving into deeper development of the ideas, De Jesús simply lengthens his pieces formulaically, first by plastering on a heavy dose of eroticism and then by plunging into endless, disconnected segments of go-for-broke athleticism, largely in the style of Twyla Tharp, with whom De Jesús has worked extensively.
The four works (all world premieres) are performed by Ron De Jesús Dance, a 13-member troupe making its New York debut. The women of the company are the stronger technicians and more appealing performers, most notably Meg Paul, whose mercurial footwork, glorious extensions, and tigerlike energy are utterly captivating. An original cast member of Broadway's "Movin' Out," Paul completely outshone her partner in "Edged," a nasty seduction pas de deux performed in black leather attire.
Francisco Avina gave overstated yet entertaining interpretation to the brilliantly conceived solo "The Wham of Sam." Set to a mirthful medley of songs and jokes by Sammy Davis Jr., the dance smartly mimics commercial-entertainment clichés. Unfortunately, just when the piece should end, Avina catapults into an interminable coda of irreverent silliness.
Least successful are the program's two ensemble works, each accompanied by a hodgepodge of musical selections that underline the choreography's incoherent structures. "Liquid" begins as a two-person exploration of movement liquidity, with subsequent couples adding dreamy emotionality, balletic form, and weight sharing to the experience of fluidity. Suddenly, a jarring sexiness intrudes, a weird male solo occurs, and an aggressive trio pushes the piece into an overextended jazzy finale. "InWood" starts with a beautifully bluesy duet. The simmering tension between the characters—a couple of poor Southern folk—is compellingly captured in the uneasy quality of the choreography and begs for further investigation. Nonetheless, we soon find ourselves in a brothel and then visit various other places where people do fierce contemporary dancing.
Presented by Ron De Jesús Dance at Joyce SoHo, 155 Mercer St., NYC. April 1–4.