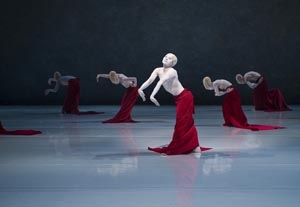 With his latest work, choreographer-designer Shen Wei seems to be moving—or at least looking—backward, embracing the past rather than evolving new approaches to the art of dance. When I first saw Wei's contemporary choreography 11 years ago, it felt fresh and strikingly beautiful in its spare, meticulous crafting, challenging audiences to view dance through the dual lens of Eastern temporal values and Western physical aesthetics. But as I watched the premiere on Nov. 29 of his "Undivided Divided"—a grand-scale, site-specific experimental dance piece commissioned by Park Avenue Armory for presentation in its enormous Wade Thompson Drill Hall—I felt I was revisiting the conceptual postmodern-dance and early performance-art scene of the late 1960s.
The piece begins with 30 topless dancers moving through individual phrases of Wei's slinky movement vocabulary, each performer situated within one of 60 squares delineated on the floor. Though the seating is arranged arena-style, audience members are encouraged to remove their shoes and wander about the stage space, walking freely among the performers so as to get a close-up view of the dance. At one point the dancers fall to their backs and lie motionless; the only movement on stage is that of the spectators strolling. Eventually, the performers resume dancing, and as the piece progresses video animation is projected onto the floor and some dancers use what look like clear plastic building blocks to form structures on which they balance, squirm, and otherwise position their bodies. Others smear themselves with paint and couple up to perform erotic writhing and rolling floor work. The original sound score by So Percussion includes low rumblings and ear-piercing ringing tones.
As the viewers grew less enthralled with the dancing, they would stop and chat with one another, and while their random wanderings had at first served to animate the work, they ultimately began to lend a clunky, extraneous quality to the overall experience. Wei's efforts to break the fourth wall, confounding our notions of what constitutes dance movement and blurring the lines between performance and everyday activity, are appreciated but far from novel.
Fortunately, the evening opened with re-stagings of two of the choreographer's impressive early works: "Rite of Spring" (2003), an unadorned interpretation of the Stravinsky score that works best in its unison ensemble sections, and "Folding" (2000), a mesmerizing, image-driven piece in which dancers sport intriguing, flesh-toned, beehive-like headpieces and bright red floor-length skirts under which they skitter mysteriously.
Presented by and at Park Avenue Armory, 643 Park Ave., NYC. Nov. 29–Dec. 4. Tue.–Sat., 7:30 p.m.; Sun., 2 p.m. (212) 933-5812 or www.armoryonpark.org.