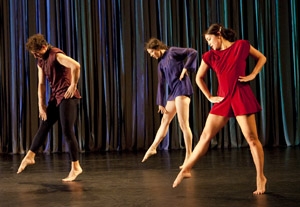 A masterfully crafted 60-minute pure-movement quintet, choreographer Tere O'Connor's "Wrought Iron Fog" is chock full of peculiar physical actions and interactions, organized into well-shaped episodes that often include strange, static displays of emotion. The performers seem to take turns in the acting spotlight, dancing with a quiet, internal focus when it is not their turn and then suddenly putting forth a penetrating current of expressivity as they lessen their movements, sometimes to the point of stillness, and evoke character traits, such as extreme vulnerability, vanity, aggressiveness, and innocence.
With O'Connor incorporating just about every kind of movement a person might naturally desire to do, a lot goes on during the hour, and a second viewing is probably necessary in order to absorb it all. However, despite Dance Theater Workshop's decision to revive this work so soon after premiering it in November, "Wrought Iron Fog" is not a piece one is likely to want to sit through again. While the choreography feels vital in the moment, it draws no indelible images and is set to an equally unmemorable collage of weird sounds and music by James Baker, with text from Samuel Beckett's novel "How It Is." The morning after, one is hard-pressed to recall much of the overall experience.
The work's driving force, as hinted at by its title, is a wide-ranging exploration of contrasting physical qualities, which in the choreographic realm is achieved by the employment of varying sorts of energy, impulses, and dynamics. Though the results of O'Connor's explorations are generally interesting, they are never riveting. The movement vocabulary, though in the contemporary-dance vein, is more pedestrian than technical and not performed with the polish and stylization usually brought by trained dancers.
O'Connor's cast, however, includes three remarkable performers: the dramatically lyrical plus-size dancer Hilary Clark, the intriguingly offbeat Heather Olson, and Daniel Clifton, a dancer with solid physical power and theatrical flair. Though Matthew Rogers imbues some of his movements with a striking strength, the piece might fare better if he and Erin Gerken, who exudes absolutely no stage presence whatsoever, were replaced by more-exciting performers.

Presented by Dance Theater Workshop in association with Tere O'Connor Dance at Dance Theater Workshop, 219 W. 19th St., NYC. June 23–26. Wed.–Sat., 7:30 p.m. (212) 924-0077 or dancetheaterworkshop.org.