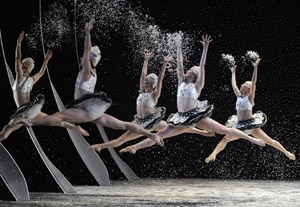 Choreographed in 1991 by Mark Morris and being presented in New York for the first time since 2002, "The Hard Nut," performed by Mark Morris Dance Group, is as tickling as ever. A highly amusing adaptation of "The Nutcracker," the work features lots of "suggestions" of familiar classical ballet steps.
However, Morris's clever choreography is solidly grounded in modern-dance sensibilities; while pointe work abounds, it is typically to comic, rather than graceful or ethereal, effect. Though the dancing is largely character-driven, the movements are designed with respect for the governing structures, rhythms, and flavors of the piquant Tchaikovsky score, performed live by the MMDG Music Ensemble, conducted by Robert Cole, and the Brooklyn Youth Chorus.
One of the most appealing aspects of Morris' choreography is its generous use of either stillness or passages of minimal activity, during which one is given the chance to really listen to the music and appreciate its inherent theatrical qualities.
But the most unique feature of "The Hard Nut" is its side-splitting first act, set in late '60s–early '70s suburbia and culminating with a magnificent snow scene in which dancers leap across the stage spewing glitter, geyser-like, from raised fists—an exemplary melding of spectacle and satire. Unlike most other versions of "The Nutcracker"—at which you sit bored through the expository first act, simply waiting for the second-act dancing to begin—in Morris' version the first half is actually more entertaining than the second. With its smartly playful set (designed by Adrianne Lobel, based on the work of comic-book artist Charles Burns), outlandish period costumes (by Martin Pakledinaz), and cast of cartoonish characters, the show's first-act party scene serves up witty mockery of family relationships, ballet traditions, Christmas clichés, and the era's art, fashions, and rock 'n' roll dances.
Though the second act offers the usual world-dance variations—albeit in spoof fashion—it takes as its framework the tale of "The Hard Nut." Commonly deleted in ballet versions, the tale is a story-within-the-story in E.T.A. Hoffman's book "The Nutcracker and the Mouse King"—the source for the original 1892 ballet—and involves a global search for a hard nut that will restore beauty to a young girl disfigured by an evil rat.
Presented by Brooklyn Academy of Music and Mark Morris Dance Group at BAM Howard Gilman Opera House, 30 Lafayette Ave., Brooklyn, N.Y. Dec. 10–19. Wed.–Sat., 7:30 p.m.; Sun., 3 p.m. (718) 636-4100 or www.bam.org .