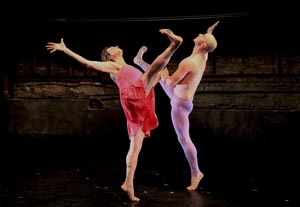 An ambitious evening-length contemporary dance fable created and choreographed by John Byrne, "Transcending Form" purports to express the idea of the transcending soul. All one can really garner, however, from watching the work is that people can be made to change.
Through a fluent series of short dance episodes, Byrne repeatedly shows distraught characters calming down after being touched, caressed, or supported by other beings, including a woman in white named Holy Spirit. But why or exactly how these characters decide to change their behavior, as well as what made them upset in the first place, remain unclear. The individual episode titles and the gospel music included in the work's eclectic score suggest that repetitive factory jobs and dysfunctional human relationships cause the problems and acceptance of religious faith leads one to peace. Yet these notions are not convincingly conveyed by the choreography.
Byrne's thoughtfully conceived movement vocabulary recalls the values of the early modern-dance pioneers; it's built of unornamented, deliberately crafted movements, rich in meaning, emotionally expressive, and devoid of unnecessary athleticism. But while nobly intentioned, Byrne can't seem to find compelling ways to physically illustrate his weighty ideas. His choreography overuses simple, familiar moves—cartwheels, marching, lunging, embracing—and feels burdened by its storytelling responsibilities. His work lacks kinetic interest and rarely opens up into the pure dance sections necessary to animate any lengthy piece of narrative choreography.
Fine performances by Byrne (who makes a brief appearance at the end of the work) and eight engaging dancers, particularly Christine Gerena and Debra Zalkind, are enhanced by the singing of Gina Figueroa. Drop-dead gorgeous in a strapless white lace gown, Figueroa brings a throaty vocal quality to the work's inspirational songs that helps ground some of the evening's hokier moments, such as when the ensemble celebrates peace by romping about while swinging paper cutout doves on sticks or when they "see the light" (one guesses) while processing across the stage with lamp shades atop their heads. Also enriching the production musically are guitarist Juancho Herrera and the beautifully blended James Solomon Benn Choir. Yet artist David LaChapelle's nude photographs of the cast, which appear on filmy drapes in one scene, do little more than underline the production's bold yet inexplicable use of nudity in several male solos.
Presented by David LaChapelle Studios and Fred Torres Collaborations at Theatre 80, 80 St. Mark's Place, NYC. June 2–Aug. 24. Wed., 8 p.m. (347) 843-5244 or www.theatre80.net.