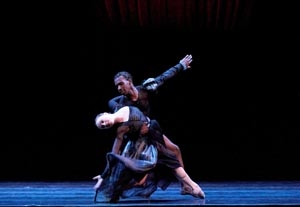 In its first New York appearance in over 20 years, the Tulsa Ballet tripped amusingly through Sir Kenneth MacMillan's "Elite Syncopations," wowed us with an exquisite interpretation of Nacho Duato's "Por Vos Muero," and then tried our patience with Korean choreographer Young Soon Hue's "This Is Your Life," a pointless dance-theatre piece inspired by television reality shows.
In place of the atrocious closer, this fine company of smartly trained terps would have done better to proffer a more challenging, perhaps classical offering. MacMillan's ragtime romp displayed the dancers' abilities to combine comedy, ballroom, and ballet maneuvers, and the powerful Duato work showed their deep expressive capabilities and command of modern dance. Yet program notes boast that the company's repertory contains numerous 19th-century ballet classics as well as contemporary works by virtually all of the greatest choreographers of the 20th century. So why didn't they give us a bit of Bournonville, Balanchine, Tudor, or Tharp? How much more meaningful it would have been to see what sort of classical chops this company really has or what fresh heartland flavors it can bring to gold-standard choreography.
While drawing its title and period setting from the 1950s surprise-biography TV show, "This Is Your Life" borrows more heavily from the melodramatics and accusatory tone of today's reality programs. With its insulting stereotypes, naive choreography devoid of any sense of musicality or inventiveness, and some really awful acting (particularly by Joshua Trader as the host), the ridiculous ballet put a deflating finish on what up to that point had been a marvelous evening.
The company excelled in Duato's moody Spanish Renaissance–flavored fusion of formal court dance figures, hard-hitting contemporary moves, and weighted modern-dance phrases. And in the MacMillan work, set to rags by Scott Joplin and others, the troupe found all the character humor and rhythmic playfulness in a lighthearted portrayal of flirty young couples at an early-20th-century dance hall. Mugen Kazama and Marit van der Wolde proved especially adept in a droll duet for an eager suitor and his too-tall partner, while Karina Gonzalez and Alfonso Martin gave luxurious interpretation to a romantic waltz.
Presented by Tulsa Ballet in association with the Joyce Theaterat the Joyce Theater, 175 Eighth Ave
.,
NYC
.
Aug. 10
–
15. Mon
.–
Wed
.,
7:30 p.m
.;
Thu. and Fri
.,
8 p.m
.;
Sat
.,
2 and 8 p.m
.
(
212
)
242-0800 or www.telecharge.com
.