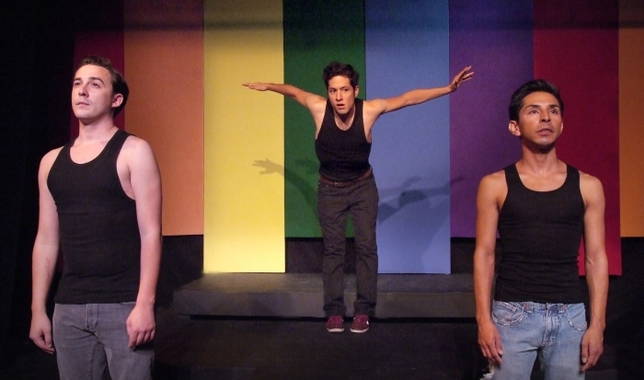 There's palpable joy and a staggering degree of talent on hand to present Casa 0101's 2nd Annual Brown and Out Festival, celebrating L.A.'s Latino LGBTQ population. Eleven original short plays comprise the slightly overlong evening exploring the diversity of the community. Given the rise of suicide among LGBTQ teens across the country, it's an admirable effort intended to help reduce the stigma of being different (especially in an area of L.A. where the audience is applauded, in founder and artistic director Josefina Lopez's curtain speech, for being brave enough to attend).
Some of the pieces are better than others, the crown jewel being the stunning "Forever Young," austerely but effectively directed by Corky Dominguez. Dominguez and Miguel Garcia culled material from the journals of Eric "Reki" Copeland, Cherrick J. Hurt, and Robert Ledesma, three majestic young men from Jovenes, Inc., a facility for homeless youth in East L.A. Focusing on the need to find and identify love and family, the piece beautifully illuminates the needs and experiences of gay kids dealing with even more than the rest of our city's enormous dispossessed population must endure.
The festival begins with "Reki" Copeland's sweet vocal rendition of a Christina Aguilera song, featuring lyrics apropos to kick off this event: "I am beautiful / In every single way / Yes, words can't bring me down." So, no need to bring anyone down here, especially when so much heart has gone into the creation of this fest. Some of the 10 engaging performers are wonderful in some of the pieces but not in others, which cries out for one director to take on the whole project next year. There's so much talent on this stage—exemplified by the festival's more experienced "mature" performers Miriam Peniche and Martin Morales—but in general, the cast needs stronger direction. Some performances are simple and direct, while in other pieces the same actors need someone to tone them down. The writing is also uneven; while some pieces are exceptionally moving, others are just plain silly. When one character has to say to her girlfriend in the heat of horniness, "I want to dive into your empanada of love," obviously better writing is in order.
If grades were determined solely by commitment and personal courage, the 2nd Annual Brown and Out Festival would warrant an A+ hands-down. As is, there's tangible hope that the third annual event will be more unified—in theme, in direction, and in trust that, although many people are already firmly behind L.A.'s Latino LGBTQ community, winning the sympathies of others would be better served if stereotypes were broken and the need to shock was removed from the equation. It's a daunting task to get from here to there, but the brave and exceptionally promising artists who have joined to mount this year's fest are clearly ready for their next big challenge.
Presented by Casa 0101 at the New Casa 0101 Theater, 2102 E. 1st St., Boyle Heights. Sept. 28–Oct. 21. (323) 263-7684, www.casa0101.org, or tickets@casa0101.org.
Critic's Score: B-