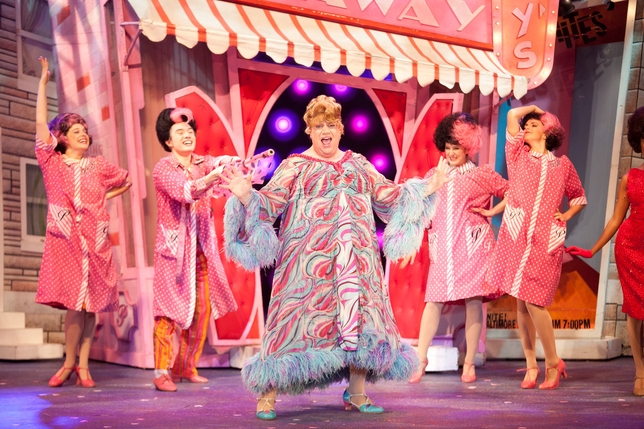 Seldom do large-scale musicals tackle big issues such as racial segregation or champion a heroine who defies the conventional definition of beauty. That puts "Hairspray" in a class by itself. To boot, Marc Shaiman's inspired pastiche score sounds authentic to the late 1950s and early '60s without ever coming off as derivative, helping evoke the innocence of the era. No wonder the show had a lengthy Broadway run and snagged eight Tony Awards. 3-D Theatricals' production, directed by T.J. Dawson, with musical direction by Allen Everman and choreography by Dana Solimando, is socko in every respect. It's no surprise that several principals are veterans of the 2002 musical, including Paul C. Vogt, Barry Pearl, Todrick Hall, and Jeff Stanfield. Also via the Main Stem are David Rockwell's cartoonish, forced-perspective sets and William Ivey Long's brightly colored, cotton candy–like costumes, which add immeasurably to its high caliber.
As chunky yet irrepressible teen Tracy Turnblad, Danielle Arci embodies innocence and joy, delivering a spirited performance and high-powered vocals. In a story thread that defies the standard shunning of the ugly duckling by the handsome prince, Stanfield's Link Larkin is an Elvis wannabe who finds himself falling in love with Tracy. Laura L. Thomas' Amber is a scrawny, vain drama queen, much like her controlling mom, Velma. Alyssa M. Simmons' Penny, Tracy's best pal, is sweetly dorky. Dynamic singer-dancer Hall is both hip and kind as Seaweed, Tracy's newest friend.
In many respects, Dawson's adult actors outshine their younger counterparts. Vogt channels Harvey Fierstein as the gravel-voiced, plus-size Edna. Pearl is enjoyably silly and fun loving as Edna's husband, Wilbur. Their mutual devotion elicits laughs plus emotional warmth in the breezily off-the-cuff vaudevillian number "Timeless to Me." As Seaweed's mother, DJ Motormouth Maybelle, Gwen Stewart delivers two showstopping numbers: "Big, Blonde and Beautiful" and "I Know Where I've Been." Jill Van Velzer's Velma is an acerbic, ruthless bigot determined to keep Baltimore's black kids from appearing on the highly popular teen dance TV program she produces. Danny Stiles and Bonnie Kovar exhibit their versatility and comedic chops as the male and female "Authority Figures," each essaying three excitable, overzealous characters drunk with their own power.
The show's musical components are its greatest strength, featuring a firm command of the rock genre by conductor Everman and his musicians and tight, precision dance routines by Solimando. The principals are musically solid all around, the 12-strong ensemble gives its musical numbers the needed heft, and Marliss Amiea, Carey Rebecca Brown, and Salisha Thomas offer sizzling vocals as the aptly named girl group the Dynamites.
While Shaiman's first-rate music is a natural focus, his and Scott Wittman's deft lyrics can't be ignored. Mark O'Donnell and Thomas Meehan's book has the requisite Broadway feel while remaining faithful to the tuner's basis, John Waters' 1988 film. The socially conscious message is prominent yet never threatens to overpower the exuberance of the song-and-dance scenes. That makes for a staging that's explosive, colorful, and satisfying.
Presented by 3-D Theatricals at Plummer Auditorium, 201 E. Chapman Ave., Fullerton. Oct. 12–28. (714) 589-2770 or www.3dtshows.com
Critic's Score: A