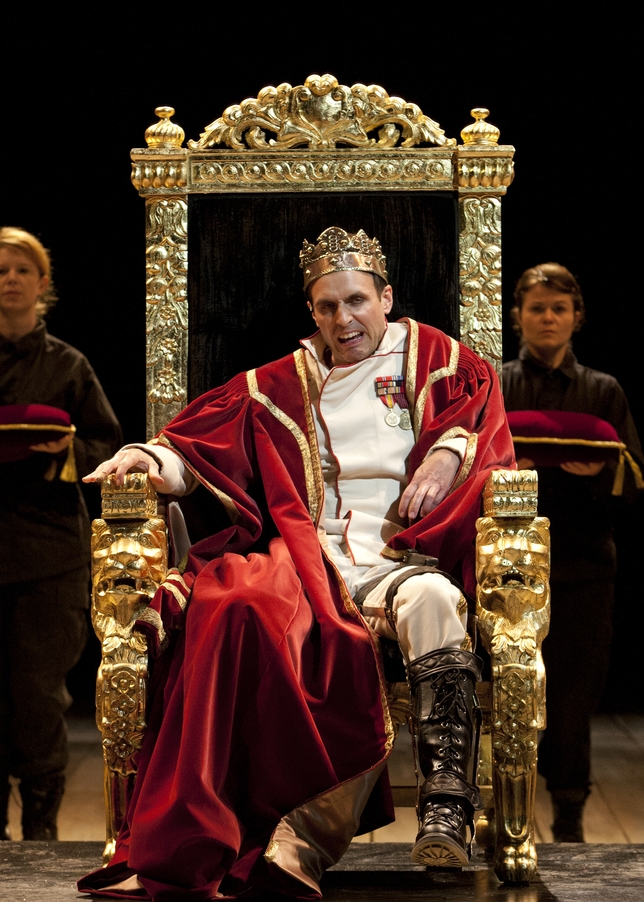 He foams; he spits; he barks and screeches. The upper torso is mildly twisted, and a leg brace runs ankle to hip, causing its owner to propel himself forward with a hurdle-step maneuver suggestive of a gingerbread man preparing to mount a palomino. When alone, he indulges a tendency to roar his monologues: "NOW!!! is the winter of our discontent."
What, you expected a librarian's timidity from Shakespeare's hunchbacked Duke of Gloucester? Not happening. Jay Whittaker lays out all of the spider king's rage, ambition, and paranoia (especially the last) for all to examine. The actor even re-employs some of the high-pitched snarling that he used as the title character in the Old Globe's production of "Amadeus" last summer.
Whittaker's skilled and showy work, under Lindsay Posner's direction, assures that we'll get what "Richard III"—play and character—are all about, as much as anyone can get a character so unrepentantly a slimeball. Rotten this Richard unquestionably is; indeed, every surrounding character confirms it, at about as fevered a pitch as the king himself uses. The most notable exception is Robin Moseley's icy Queen Margaret, steely in her curses and madness, thereby leaving the real histrionics to Dana Green's Queen Elizabeth. Vivia Font, who in the 2012 rep cycle plays Celia to Whittaker's Oliver in "As You Like It," bounces off him with appropriate attraction, disgust, and despair as the unconventionally wooed Lady Anne.
Posner and set designer Ralph Funicello have set the play in the present, covering every available bit of wall space with colorful graffiti (one discernible and quite apt message: "Know your enemy"). Following intermission, the urban blight gives way to a pair of enormous paintings of Richard in battle-regalia mode, missiles seeming to fire from his head in a coronalike formation. Also following intermission, a newly crowned Richard is already asking "Who do I have to squelch next?"
Between all those ghosts, all that butchery, and those two doomed princes, directors are generally leery of shortening "Richard III," and Posner is no exception. The production is a solid three hours and occasionally drags as we move toward the finish line. Still, Whittaker is entertaining to the last. Villainy will do that.
Presented by and at the Old Globe as part of the 2012 Shakespeare Festival,1363 Old Globe Way,San Diego. June 24–Sept. 29. Schedule varies. (619) 234-5623 or www.theoldglobe.org. Casting by Calleri Casting.
Critic's score: B