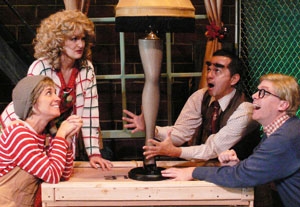 Who could imagine a spoof that pokes fun at two targets as disparate as Stephen Sondheim and Leonard Bernstein's 1957 musical masterpiece "West Side Story" and the goofy yet heartwarming film classic "A Christmas Story," set in snow-covered suburban America in the 1940s? Director-performer Matt Walker and his trusty Troubadour Theater Company parodists are the zany artists who pursue this loopy notion. The troupe's holiday gift to audiences is an uproarious and musically sublime blend of Broadway bombast, Hollywood nostalgia, and "Saturday Night Live" snark.
The Troubies borrow from the score and choreography of the timeless romantic tragedy "West Side Story" to cast a sardonic eye on Bob Clark's beloved 1983 movie. Only in the cockeyed Troubie universe could a stirring tale of racial prejudice and star-crossed lovers morph into the saga of nerdy grade-school youth Ralphie (Walker) and his obsession with a BB gun. Surprisingly, much of the zesty flavor of "West Side Story" shines through, thanks to choreographer Molly Alvarez's dazzling reimagining of Jerome Robbins' original choreography and the cast's singing and dancing prowess. The spoof sensibility occasionally fades to the background as the performers strut their stuff in showstopping production numbers. Still, there's no shortage of insane gags, spot-on topical putdowns, and sidesplitting ad libs and razzing of the audience.
The parody lyrics provide endless guffaws. "A Boy Like That," Anita and Maria's angst-filled operatic duet from "West Side Story," becomes a plea crooned by Ralphie's mother (hilarious Leah Sprecher) that "a gun like that will kill your brother." When Ralphie's dad (ingenious improviser Rick Batalla) wins a hideous contest prize—a replica of a woman's leg topped with a lampshade—the inanimate object suddenly bursts into a riff on Maria's "I Feel Pretty" (blissfully performed by Monica Schneider), though the gag seems more reflective of "Beauty and the Beast." In Troubadour's hands, "anything goes" is the paradigm. No matter how off-the-wall the jokes are, they almost always hit the bull's-eye.
As the neurotic protagonist Ralphie—Woody Allen in miniature—a bespectacled Walker is in top form. There are gangbuster contributions from Beth Kennedy as Ralphie's woebegone young brother, Randy (especially during her slapstick battle with a treacherous wraparound coat); Brandon Breault as a relentless school bully and an insensitive department store Santa; and Lisa Valenzuela as the befuddled schoolteacher.
Eric Heinly's music direction is spectacular. The visual designs—Mike Jespersen's set, Jeremy Pivnick's lighting, and Naomi Yoshida's costumes—combine holiday cheer with inspired satiric touches. This fun-filled frolic seems destined to become a yuletide classic in its own right.
Presented by Troubadour Theater Company at the Falcon Theatre, 4252 W. Riverside Dr., Burbank. Dec. 9-Jan. 15, 2012. Wed.-Fri., 8 p.m.; Sat., 4 & 8 p.m.; Sun., 4 & 7 p.m. (818) 955-8101. www.falcontheatre.com.