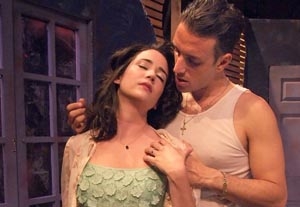 Michael Gazzo's play, written in the early 1950s, had innocence on its side then, which negates its impact on today's audience. It's about drug-addicted Johnny Pope (Chris Devlin, alternating with Tommy Villafranca), who has his family, but not a modern audience, fooled as to why he's not a functioning husband and father-to-be, or no longer the lovable young 5-year-old his father remembers, who dug up a hatful of rain from the garden. And who are those threatening men who come looking for him late at night? And why is Johnny's brother Polo (Gadi Erel, alternating with Ludwig Manukian) sharing the small apartment—and Johnny's wife, Celia?
The Katselas Theatre Company, under the detailed direction of Dean Kreyling, has developed a full-bore, totally predictable melodrama. Alicia Klein (alternating with Tania Gonzalez) is a standout in this group as Celia, in a stirring performance, simple and real. Joseph Cardinale, as the crusty paterfamilias, also scores highly while maintaining a coolly effective distance from all the "acting" going on, especially the three stoogelike drug pushers and thugs: Mother (Jeremy Radin), Apples (David Crane, alternating with James Lyons), Chuch (Eddie Navarro, alternating with Aaron Leddick), and Putski, their random whore (Vanessa Celso, alternating with Stephanie Thompson). They're all caricatures, dutifully choreographed like a recherché ballet.
It's never clear what happened between Polo and the boys' dad to alienate them both so deeply, or what remains between Johnny and Celia that keeps her so out of his confidence that she assumes he has another woman. The play is so far out of its time that this company's hyper-realistic approach doesn't work well for it.
Jeff McLaughlin's set and lighting design is detailed and totally in sync with its period. Would that David Bartlett's sound were as apt. Some of the dialogue is lost during the frequent noisy "rainstorms" that scarcely enhance the action; there are also several abstruse sound effects when one wonders, What's that tweeting sound? And why isn't someone responding to it?
Presented by Katselas Theatre Company at the Skylight Theatre, 1816 N. Vermont Ave., L.A.
July 25–Aug. 23. Fri.–Sat., 8 p.m.; Sun., 7 p.m.
(310) 358-9936. www.katselastheatre.org
.