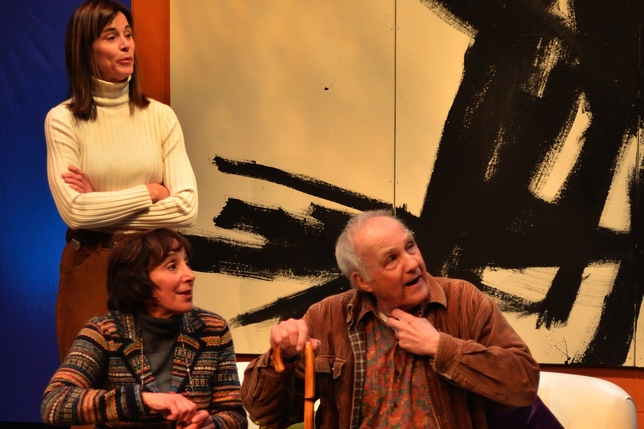 Emmy-winning television writer Elliot Shoenman has proven to be an accomplished playwright over the past few years, a distinction made more apparent with "A Heap of Livin'," making its debut in a lovely, delicately straightforward production directed by Shoenman's frequent collaborator Mark L. Taylor for the Inkwell Theater.
Ramblin' Harry is a celebrated folksinger whose talent was eclipsed a long time ago by his overblown self-image. As his star rose over the years, his relationship with his family deteriorated. "Other kids have a father," notes his daughter Eden. "My sister and I had an album cover." Now frail, cantankerous, and ill, Harry is forced to come onstage for a concert utilizing a walker, making him more furious than ever with the natural attrition of aging. As his daughters argue about who will be responsible to care for their difficult dad in his declining stage of life, two things emerge: how angry they are at him and how desperately they love him in spite of his transgressions.
Even beyond Shoenman's smart and perceptive ruminations about how the heartiest of lives often devolve into dependency and fulltime nursing care, what this production has is a stellar cast of veterans, who are able to overcome some clumsy missteps. Exposition is handed out too obviously, and entrances and exits are so contrived that they're hard to overlook. One peripheral character, Eden's neighbor Rachel (Salli Saffioti), disappears by the second act, as though she had been lifted from one of the writer's other unfinished plays and plopped down here just to listen to the story of her friend's unhappy childhood. And when she leaves in one scene, then soon after rings the doorbell again, offering a lame excuse for returning, it's clear that the character's back only to observe the meltdown of Ramblin' Harry and his girls.
As Harry, no one could have been a better choice than the formidable Lawrence Pressman. Though the character is cranky and full of himself, Pressman finds a tattered old teddy bear peeking out beneath Harry's massive ego. Thanks to Pressman's consummate skill, that quality becomes more endearing than infuriating. Jayne Brook is exceptional as Eden, hiding her resentments behind a thin veil of urban cool, while Didi Conn, as her sister Pearl, is exceptionally lovable, especially considering just how annoying Pearl could be in lesser hands.
A quibble: Noted composer David Shire has contributed an original song to serve as Ramblin' Harry's star-making hit. "A Song of My Own," recorded by Tom Chapin to tinkling banjo accompaniment, weaves through the action and scene changes. Shire's lyric doesn't include corn as high as an elephant's eye, but that's the sentiment. The number is more Malvina Reynolds in nature than what one might expect from Harry, a socially conscious leftie. Bad 1970s music turned up high on the ride home was essential to wipe the tune out of my memory banks.
Presented by the Inkwell Theater at the Odyssey Theatre, 2055 S. Sepulveda Blvd., L.A. Feb. 8–March 17. (310) 477-2055 or www.inkwelltheater.com.
Critic's Score: A-