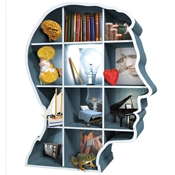 William Finn and James Lapine's 1998 musical is literal -- based loosely on Finn's experiences as he underwent a brain operation -- and figurative, regarding what happens when one opens oneself up to new perspectives. Finn's conception is a free-flowing, sung-through operetta with a diverse range of musical styles. Patrick Pearson's cast of 10 includes quadruple-threats who act, sing, dance, and provide the production's live music.
The show's vocals take center stage, and Pearson and co-music director Gregory Nabours have not a weak voice in the bunch. Ryan Wagner shines as Gordon Schwinn, the songwriter frustrated by his dead-end job -- writing meaningless ditties for a tyrannical children's-TV-show host -- before collapsing over lunch, awakening in the hospital, and being told he has a rare brain condition that requires surgery but has no certain outcome. Wagner's voice and eyes are sensitive and expressive as he shows Gordon's frustration, vulnerability, self-loathing, and fear during the medical ordeal. Jeffrey Aiken is loving and comforting as Gordon's mellow lover, and Courtney Walton is cheerful and saucy as Gordon's co-worker and best friend.
The cast is in its 20s, making certain roles a hard sell -- chiefly Gordon's mom, his boss, and a ubiquitous Homeless Woman. Nonetheless, Aimee Karlin is forceful and purposeful as Mother, in denial over her son's illness, Jesse Bradley's Bungee is an egocentric jerk, and Kaitlyn Etter delivers spirited work. Hearing Finn's fine lyrics is also an occasional problem, whether from lack of articulation by the vocalists or from their voices being drowned out by the music. These flaws aside, this is an utterly personal story told through soft rock songs that are raucous, bittersweet, and joyous.
Presented by and at Rude Guerrilla Theater Company,
202 N. Broadway, Santa Ana.
Fri.-Sat. 8 p.m., Sun. 2:30 p.m. (Dark Jul. 4.) May 30-Jul. 6.
(714) 547-4688. www.rudeguerrilla.org