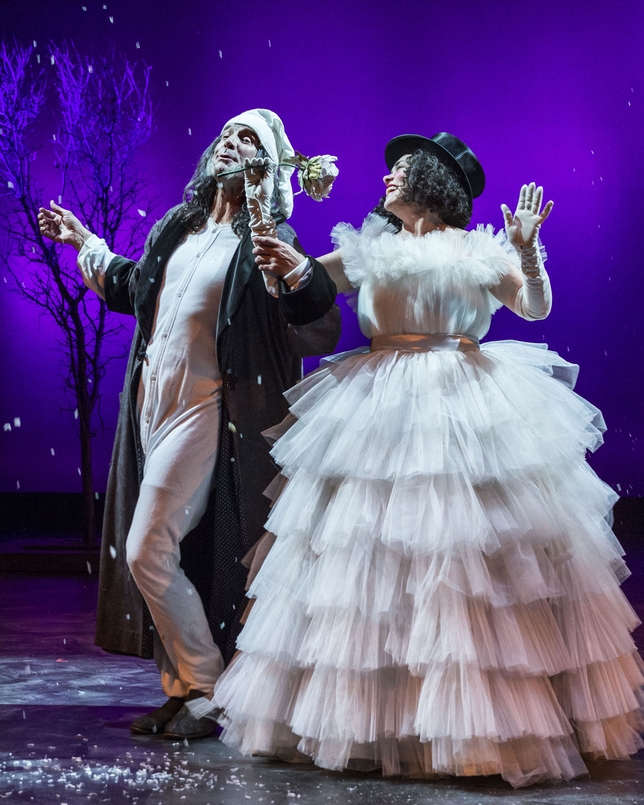 With no shortage of Charles Dickens holiday offerings at this time of year, it's gratifying to report that "A Christmas Carol" at A Noise Within leads the pack. Although this impressive version of Dickens' 1843 Yuletide classic breaks no new ground, it unfolds with fluid invention and considerable literate charm.
Credit the tireless Geoff Elliott, whose adaptation adroitly compresses the timeless saga of miserly Ebenezer Scrooge and his regeneration one particularly cosmic Christmas Eve without losing its essential details. Clocking in at a tidy 90 minutes, the scenario deploys a narrator (Robertson Dean, authoritative and plum-voiced as ever) to give the prosaic passages a cozy storytelling feel while affording the episodic vignettes precise and rewarding dramatic heft.
Kudos also go to co-director Julia Rodriguez-Elliott, who in tandem with her husband keeps the narrative moving with cinematic thrust and some exquisitely judged choices in placement and effects. Scenic designer Jeanine A. Ringer's elegant décor seamlessly shifts from Scrooge's two-story office to his isolated four-poster bed, Fezziwig's party erupts with operetta-like grace, and there are countless shrewd usages of wings, flies, and aisles.
Costumer Angela Balogh Calin develops her Victorian silhouettes from monochrome at the outset to pastel confections for the Fezziwigs to warm earth tones for the Cratchits and Scrooge's nephew, Fred. Her choices for the ghosts are particularly witty: Jacob Marley is twinkle-lighted and harnessed by chains; Christmas Past becomes a top-hat-wearing, organdy-gowned coquette on a swing; Christmas Present towers as a fruit-adorned male Mother Ginger from "The Nutcracker"; and, chillingly, Christmas Future appears as a branch-armed sylvan golem. Deftly evocative as well are Ken Booth's lush lighting and composer Ego Plum's taut soundscape, creating an ethos by turns fearsome and festive.
The cast exhibits endearing commitment in multiple roles as it rallies against and around adapter and co-director Elliott's delightfully layered Scrooge. An actor of innate grandeur, Elliott dials back his attack, which makes Scrooge's rising desperation and climactic reversal all the more touching and tickling. Stephen Rockwell and Jill Hill are spot-on as Mr. and Mrs. Cratchit, warm and spontaneous. Rafael Goldstein is stalwart and unmannered as Fred, and Alison Elliott makes the most of lost love Belle. Mitchell Edmonds' resonant Marley, Deborah Strang's winsome Christmas Past, Alan Blumenfeld's bumptious Christmas Present, and Kevin Rico Angulo's mimetic Christmas Future uphold the company standard. The children, led by Dámaso J. Rodriguez's artlessly adorable Tiny Tim, are an unaffected treat amid a lovely group effort.
One could quibble here and there. The demonic, leotard-wearing figures who accompany the graveyard icon feel a tad anachronistic, although the giant china-silk dress train they spread out is striking, and not all of composer Plum's tunes have the NPR-ready freshness of his opening theme. Nevertheless, this is a beautifully appointed, droll, and heartfelt take on a timeless holiday staple. God bless them everyone.
Presented by and at A Noise Within, 3352 E. Foothill Blvd., Pasadena. Dec.8–23. (626) 356-3100 or www.anoisewithin.org.
Critic's Score: A