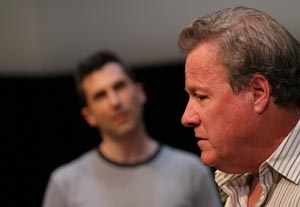 Not much is spelled out in this Caryl Churchill play. If we quickly catch on, great. But if we don't try to force immediate comprehension on ourselves, still great, because curiosity and discomfort swirl through us. And that lets us experience a fascinating and—at one hour—teasingly brief postulation of our future, followed by a long-lasting examination of ourselves.
What if you suddenly see yourself coming around the corner, Churchill postulates? Is it "you" or someone else? Can a parent build an ideal child, discarding errors along the way? How vital is the parent-child relationship—in actuality or in how we perceive those who raised us? How far can we go and should we go to shape life?
Not only something for the audience's mind to feast on, the play is a great vehicle for two actors. One plays the father, a seemingly genial man who has a brief but powerful meltdown midway through his self-recriminations and self-delusions. The other actor plays several sons who are the same and yet very different, whether from experience or from a still-unknown genetic component that makes our souls.
Bart DeLorenzo directs with a sense of tension that doesn't break, start to finish. Details are carefully choreographed but remain subtle, including interesting differentiations among the relationships—why one son gets a spoonful of vegetables and another a plate of large cookies in designer Christopher Kuhl's oddly stark yet cozy living room.
John Heard and Steve Cell, although a touch cautious with each other on opening night, have well kneaded their characters. Heard goes for the humor as the father, so we care when he breaks down. A cane the actor leans on lightly is oddly ironic, as he plays a father in need of a more perfect child. Cell changes subtly to create three sons, from the way each sits on the sofa to a seeming alteration of breathing patterns. There's familial warmth to the first son, menace to the second, a touch of Sarah Palin folksiness to the third.
The play stays with us, haunting us for days. Why not? The questions it poses have haunted mankind since our dawning.
Presented by and at the Odyssey Theatre, 2055 S. Sepulveda Blvd., L.A.
April 25–June 21. Thu.–Sat., 8 p.m.; Sun., 2 p.m. (Exception: Sun., 7 p.m. only May 24, June 14 and 21. Added show: Wed., 8 p.m. May 20.)
(310) 477-2055 or
www.odysseytheatre.com
.