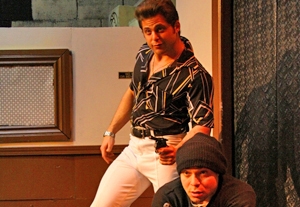 Playwright Mark Troy's efforts to offend every ethnicity, religion, institution, and tradition imaginable bring to mind vintage Mel Brooks. Though there are inspired moments in the world premiere staging of this frantic farce, the end result is less than the sum of its scattered parts. Despite director Ronnie Marmo's energetic staging and the spirited efforts of a superb cast, the overwrought script runs out of gas before it sputters to a contrived conclusion.
The story takes place two days before Christmas in 1978 at the New York Public Library, depicted in a marvelous two-story set by designer Danny Cistone. During a seemingly typical day at the library, presided over by a Gestapoesque spinster librarian (Perry Smith), two dimwitted would-be thugs (Joey Russo as Carlo and Jeremy Luke as Tony) attempt an ill-advised robbery. At gunpoint, they demand to receive the day's late-fee proceeds. They are taken aback to discover that the booty is only $14—well short of the hoped-for $14,000. As an alternate plan, they take the library patrons hostage.
Lapses in logic are plentiful in what follows, but that might not matter if the broad burlesque humor were consistently funny and if the excessive number of characters running in and out didn't lead to tedium. The characters include a perky Jewish nurse (Shelly Hacco); her Muslim fiancé (Abhi Trivedi) and her disapproving rabbi father (James Engel), who masquerades in a Santa outfit to spy on them; a nerdy bookworm (Paul McGee); a blind Frenchman (Adam Silverstein); a roller-skating pregnant woman (Liz Bassford); Tony's streaker girlfriend (Katy Jacoby); and an African-American hooker (Monica Quintanilla) and her pimp (Greg L. Glass), plus several more.
As the egocentric punk with a Tony Manero strut and a Pee-wee Herman brain, Russo proves a fine farceur, and he's well-complemented by Luke's moronic marauder, who's so dumb that his girlfriend's request for a china doll for Christmas prompts him to purchase a black-market Chinese baby for her. Trivedi and Engel's frenetic encounters provide plenty of laughs, and Smith's obsessive public servant is a hoot.


Presented by the 68 Cent Crew Theatre Company at Theatre 68, 5419 Sunset Blvd., Hollywood. Dec. 4–Jan. 31, 2010. Fri.–Sat., 8 p.m.; Sun., 3 p.m. (Dark Jan. 1–3.) (323) 467-6688. www.theatre68.com.