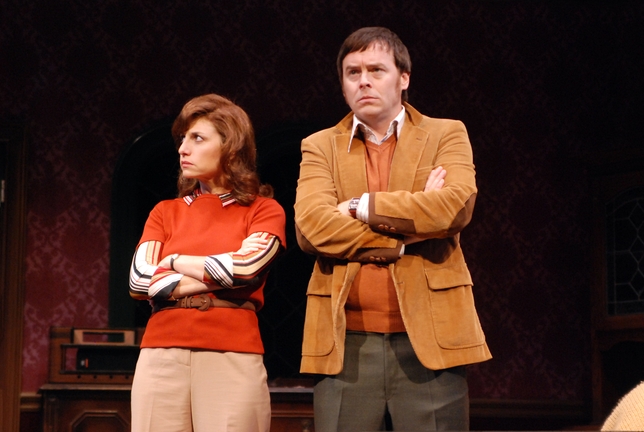 One of the earliest of Alan Ayckbourn's many tragicomedies, "Absurd Person Singular" enters its 40th year as keenly observant of human nature as ever. Director David Emmes' ideally cast staging has its finger on the pulse of a script that like many another Ayckbourn work uses matrimony to dissect the British class system.
The play looks at how the individuals of a couple treat one another, the way their behavior shifts when other couples are around, and how the presence of others exerts influence upon their lives. This 1972 masterwork gives us four married pairs: one unseen and the others reappearing on three consecutive Christmas Eves. As the fortunes of the men shift, their wives are along for the ride, their stock either soaring or plummeting.
The use of the couples' kitchens as the backstage or staging area of their holiday parties is superbly realized by scenic designer Sara Ryung Clement, each location playing a major role. Act 1 happens in the garish and ghastly galley of Sidney and Jane. Sidney is desperate to impress banker Ronald and architect Geoffrey, and Jane plays the dutiful helpmate for whom housecleaning is therapeutic. Act 2 takes us to Geoffrey and Eva's home. Philandering Geoffrey has announced that he wants to leave his wife but still see her. In a darkly funny madcap ballet, Eva repeatedly attempts suicide as the other two couples buzz about, oblivious to her plight. Act 3 is as screamingly funny but also more muted and painful. Geoffrey and Eva have reconciled and created a workable synergy through a fatal event blamed on him, Ronald and Marion's star has fallen, and Sidney and Jane, now riding high, have the others literally dancing to their tune.
In line with its themes is the fact that neither sex truly fathoms the other. That flaw creates cluelessness on both sides that breeds misunderstandings both hilarious and deeply tragic to the myopic observer, elements that come to the fore amongst the tensions of trying to use a house party to make a good impression. JD Cullum wears clueless well as Sidney, portraying a nerd in the first scene; a gung-ho, Johnny-on-the-spot repairman in the second; and a malicious, insensitive twit in the third. Kathleen Early's Jane is ever the obedient helpmate, taking her cues from Sidney; as such, she's sweet, kind, and self-effacingly pliable. Alan Smyth and Tessa Auberjonois are Geoffrey and Eva, the next rung up the ladder. Displaying vintage early '70s hairstyle, clothing, and mannerisms, Geoffrey is the caddish philanderer, a role he reluctantly abandons by play's end. Auberjonois delivers the most spectacular arc: at first blowzy and drug-addled, then groggy and frumpy during a gem of wordless slapstick, and ultimately resilient and self-respecting. As Ronald and Marion, Robert Curtis Brown and Colette Kilroy skirt stereotypes of the upper class but add enough nuances to engender both laughter and sympathy.
Presented by and at South Coast Repertory, in association with honorary producers Richard P. and Jane Taylor, 655 Town Center Dr., Costa Mesa. Sept. 14–Oct. 7. (714) 708-5555 or www.scr.org. Casting by Joanne DeNaut.
Critic's Score: A+