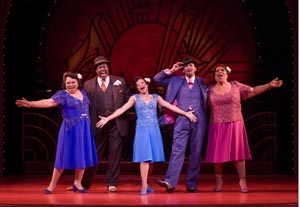 This lavishly entertaining revue of songs composed by musician-songwriter-entertainer Thomas "Fats" Waller (1904–43) raised eyebrows when it won a best musical Tony in 1978. Some maintain that this category belongs to book musicals. Yet so much of Waller's stylistic individuality—scintillating jazz melodies, playfully bawdy lyrics, felicitous spirits—is evident in this compilation that it's probably a better reflection of the late musician's personality than a conventional bio-musical could deliver. Much of the original creative team—including director Richard Maltby Jr. (who helmed the original and co-conceived it with Murray Horwitz), choreographer Arthur Faria, and one performer (the ebullient Armelia McQueen)—has joined forces for this loving resurrection.
The gifted ensemble—McQueen, Roz Ryan, Doug Eskew, Debra Walton, and Eugene Barry-Hill—elicit great fun from the material's dicey innuendos and Faria's naughty dance moves. Highlights in this vein include Ryan and Eskew's lusty "Honeysuckle Rose" and Barry-Hill's tour de force pair of audience-baiting routines, "The Viper's Drag" and "The Reefer Song." Though spirited toe-tappers ("The Joint Is Jumpin'," "The Jitterbug Waltz") dominate the evening, Waller's repertoire occasionally touches upon sobering topics such as racial discrimination, as in the sublime ensemble number "Black and Blue." His richly diverse oeuvre also encompasses passionate torch songs (Ryan's bravura turn in "Mean to Me"), World War II ditties ("The Ladies Who Sing With the Band") and sultry duets (Barry-Hill and Walton's smashing "How Ya Baby").
The production feels fresh and vital, though Maltby has wisely not reinvented the wheel. Luther Henderson's music adaptations, orchestrations, and arrangements have been retained, skillfully handled here by supervising music director William Foster McDaniel. John Lee Beatty re-creates his exquisite original set design—the colorful simulation of a 1930s nightclub. Randy Barcelo's dazzling original costumes have been re-created by Gail Baldoni. Pat Collins supplies a resplendent lighting design. Above all, it's the performers and the treasure trove of vintage songs that make this production sparkle. Don't take the title literally; theatrical mischief has seldom been so doggone much fun.
Presented by Center Theatre Group at the Ahmanson Theatre, 135 N. Grand Ave
.,
L.A
.
April 24
–
May 31. Tue
–
Fri
.,
8 p.m
..;
Sat
.,
2 and 8 p.m
.;
Sun
.,
1 and 6:30 p.m
. (
Dark Thu. 8 p.m. Apr. 30 and Sun. 6:30 p.m. May 24 and 31. Additional performance Thu. 2 p.m. May 21 and 28
.
(
213
)
628-2772 or www.centertheatregroup
.
org
.