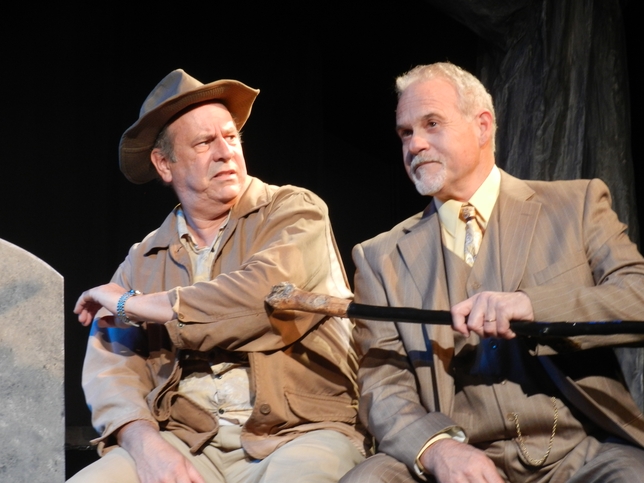 Combining the theme of child molestation with such elements as a supposedly dead pedophile, the desire for revenge, and a graveyard should result in explosive theater. But "Alabama Baggage" fails to convey the, pardon the pun, gravity of the issue, because playwright Buddy Farmer's approach to his subject is inconsistent and muddled.
The play opens as the grieving Miss Helen (Jody Fasanella) brings flowers to the grave of her recently deceased husband, Hal (John Combs). After she leaves, a young man named Lucas (Ashley McGee) comes to the site, checks the headstone, and starts to urinate on the ground. Ben, the sheriff (Will Blagrove), enters and threatens to arrest Lucas for desecrating a grave. The two grapple, and Lucas, raging, reveals that Hal raped him over a period of years, starting when he was 12. Lucas lives in Alabama, hence the title, where Hal had fled for a time. It turns out that Hal also molested Ben, who insists that it only happened once and it's something he wants to forget. He says that as an African-American he had to fight to get established in the community, and he doesn't want to risk his position or his marriage by airing his past victimization.
The two soon learn that Hal has faked his death with the help of Judge Bailey (William Jones), who gives him money to skip town because the jurist wants Miss Helen. Hal has agreed to go due to increasing talk about him and his "activities." Ultimately, Lucas and Ben face Hal at the gravesite and go back and forth between wanting to kill him and having reservations about taking a life, with each young man changing his intention so often that the action becomes ludicrous and trivializes the genuine anguish such victims suffer. Mercifully, Miss Helen comes on the scene, learns all about the dirty laundry, and takes care of business.
It may be unfair to fault the cast or director Paul Messinger, who has not gotten the best from his actors, for the script's inherent flaws, which make it virtually impossible to care about any of the characters. McGee is all empty bombast, and Combs gives no sense of being cornered. He is burdened with having to go through the stages of denial, explanation, justification, and apology in such a short space of time that none of it is believable. Jones seems unsure and probably needs a little more rehearsal. Blagrove has some moments that are simple and genuine, but he too is hampered by the writing. The most clear, forthright work is done by Fasanella in her last scene, when Miss Helen confronts Hal with unvarnished fury, demanding to know if his predilection extends to girls, as she has a daughter whom Hal professes to love.
Farmer's characters spout all the reactions, recriminations, and excuses that are described by experts in the field, but it all comes across as a litany of textbook statements, and the viewer remains disengaged.
Presented by LuluBelle Productions at Theatre Asylum, 6320 Santa Monica Blvd., L.A. March 9–April 14. (323) 960-7711 or www.plays411.net.
Critic's Score: D