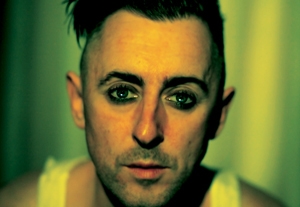 Alan Cumming is nothing if not audacious. Whether revealing private matters regarding himself and an onstage musician, relating an extremely bawdy comment made by a late superstar of MGM musicals, or daring to make a barb against journalists while reviewers attend his show, this guy's a bona fide scamp. That rascally charm could carry this heralded performer a long way on its own. Add in his remarkable singing prowess, his instinct for material that's ideal for him, and his astonishing comfort level during a cabaret performance. Then top all of that off with the soul of a genuine romantic, revealed in patter and some song choices, and it's easy to see why the audience went wild during the opening performance of Cumming's brief L.A. gig. One has no trouble believing his assertion that the late Walter Cronkite got up and danced with him during the entr'acte to "Cabaret" during Cumming's Tony-winning Broadway debut.
Cumming's smoothly relaxed blend of celebrity dish, amusing insights about the Americanization of a Scotsman, songs ranging from raucous to rueful, cutting political barbs, and candid anecdotes about his sexuality feels so spontaneous that it's hard to imagine he has previously performed the show in other cities. This performer seems so at home on the cabaret stage, it might seem his permanent professional habitat were it not for the longstanding career he's still enjoying in musical theater and drama, films, and television.
A fabulous five-piece onstage band, led by music director–pianist Lance Horne, and an otherwise bare stage, form the casual backdrop for the smartly attired Cumming to practice his craft. Opening with Cyndi Lauper's "Shine," he croons a variety of tunes between the patter. No doubt the audience would be disappointed if he did not included a number from "Cabaret." In a pleasant surprise, he doesn't perform a song from his Emcee character of the show, instead opting for a smashingly original take on "Mein Herr," the Kander and Ebb song that was first introduced by Liza Minnelli in the film version. As Cumming mixes talk-singing with the forceful dramatic crescendos that highlighted many of his numbers, this song becomes an electrifying showstopper. A medley from "Hedwig and the Angry Inch" is also powerful and musically sublime. His delivery of Dory Previn's "I Dance and Dance and Smile and Smile" provides another high point, as does William Finn's "What More Can I Say?" from "March of the Falsettos."
The title comes from an expression Cumming was asked to recite when applying to get his naturalization as a U.S. citizen a decade ago. Watching this born entertainer tear up the stage with such passion and conviction, my foremost thought was that Europe's loss is the United States' gain.
Presented by the Geffen Playhouse at the Audrey Skirball Kenis Theater, 10886 Le Conte Ave., Westwood. Sept. 29-Oct. 4. Tue.-Fri., 8 p.m.; Sat. 7:30 and 9:30 p.m.; Sun., 2 and 7 pm. (310) 208-5454. www.geffenplayhouse.com.