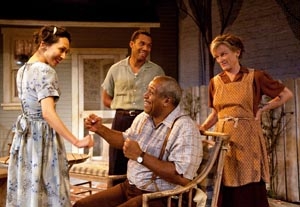 Producer Joseph Stern concludes his three-year trilogy ("Stick Fly," Neighbors") with Arthur Miller's classic tale of misguided greed and lies that fracture the lives of a family and its friends and neighbors. Deliberately cast with multiethnic actors, this production gets its heft from the remarkably fine portrayals by all onstage.
The Keller family comprises black father Joe (Alex Morris), white mother Kate (Anne Gee Byrd), and mixed-race son Chris (A.K. Murtadha). Asian brother and sister Ann (Linda Park) and George Deever (James Hiroyuki Liao) were former neighbors and grew up with Chris and his deceased brother, Larry. Their father, Joe's former partner, is in prison for selling defective airplane parts that killed 21 soldiers. Other neighbors are Dr. Jim (Taylor Nichols) and Sue Bayliss (Anita Barone), who are white, and Frank (Armand Vasquez) and Lydia Lubey (Maritxell Carrero), who are Latino.
Joe's lie that he was only marginally involved in the deaths has given him a reduced prison sentence, but many suspect he had complicity in the crime. This, then, becomes the crux of the tragedy of an average man with a fatal flaw.
Cameron Watson's direction is pitch-perfect. Morris and Byrd are pros, handling the sensitive characterizations with nary a misstep. Park and Murtadha are also excellent as the attractive couple whose future together unravels as Chris becomes aware of his father's guilt and Ann delivers a heartbreaking suicide note from Larry. Liao's palpable grief, as George, over his father's condition is remarkably moving.
Miller's setting is an American town in a carefully defined, post-WWII time period. As superior as the ensemble is and as universal as the human failings, it is difficult to see Miller's characters so modern in their lack of racial bias. The country was still deeply divided, particularly considering the catalytic inclusion of the Japanese in the war. This artifice was mildly disconcerting.
This production should not be missed, as it has authenticity of characters and allows audiences to recapture Miller's fine craftsmanship. It rings true in today's climate of corporate avarice and shifting morality.
Presented by and at the Matrix Theatre, 7657 Melrose Ave., L.A. Oct. 22-Dec. 18. Thu.-Sat., 8 p.m.; Sun., 2 p.m. (Dark Nov. 24.) (323) 960-7773. www.matrixtheatre.com.