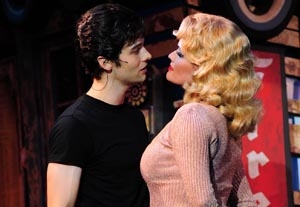 The Bard meets Elvis the Pelvis, with a touch of "Footloose," in librettist Joe DiPietro's effervescent jukebox musical. Under the buoyant direction of T.J. Dawson, this tasty confection fully satisfies, through the efforts of a boffo performing ensemble, Dana Solimando's showstopping choreography, and the smashing music direction and conducting of Allen Everman. It's as if one of those 1950s–60s Elvis Presley movie musicals were transported though a time capsule to the contemporary stage, recombining the best tunes from all of them into a score that continually rocks the rafters.
DiPietro's rib-tickling book liberally borrows from the gender-bending premise of "Twelfth Night," setting the story in a rural American town in the 1950s. An uptight female mayor (riotously funny Viva Weber) strives to suppress anything fun, including popular dances of the day—dirty or otherwise. Breezing into town to shake, rattle, and roll things up is Chad (Joe Mandragona), a hip-swiveling, leather-jacketed motorcyclist—about as Presley as a character can get. Love is soon in the air among many townspeople, and it's clear that the laid-back burg will never be the same.
Mandragona has the looks, charisma, slick moves, and killer singing voice to parlay this role into a stellar portrayal. Without mimicking Presley, the performer pokes affectionate fun at the superstar's legacy. Mandragona also uses his comedic chops for maximum hilarity, particularly when grease monkey Natalie (Cassandra Murphy), smitten with Chad, masquerades as a boy to get closer to him. The script cagily brings homoerotic undertones to this Eisenhower-era milieu, as Chad doesn't understand why he's finding Natalie attractive in her male guise. Murphy is likewise a splendid singer, and she's winning in her scenes as the love-struck tomboy, as well as those playing Ed, her invented alter ego.
Also delightful are Daniel Dawson as Natalie's goofy pal who secretly pines to be her boyfriend; Kelli Provart as the sexy museum curator who catches Chad's fancy; and Angela Wildflower Polk and Bobby Perino as a young couple entangled in a forbidden interracial romance. Terrific supporting turns are delivered by Jamie Snyder, Drew Boudreau, and Amber J. Snead. The cherry atop this hilarious and tuneful soufflé is its surprising tinge of genuine heart.
Presented by 3-D Theatricals at Plummer Auditorium, 201 E. Chapman Ave., Fullerton. May 13–29. Thu.–Sat., 8 p.m.; Sun., 2 p.m. (Also Sat., May 28, 2 p.m.) (714) 589-2770. www.3dtshows.com.