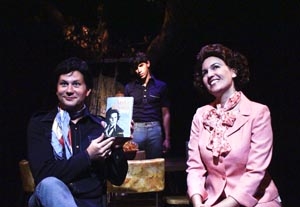 Former Miss America Anita Bryant isn't dead, but her career as a singer and a spokesperson for Florida orange juice expired decades ago, following nationwide boycotts against her professional endeavors by gay-rights activists. This legendary political battle provides the perfect thematic cornerstone for the sweeping social changes that challenge teenage Horace Poore (Wyatt Fenner) in Brian Christopher Williams' wonderfully funny and deeply moving semiautobiographical play, now in its West Coast premiere. Where has this marvelous play been hiding since its 2004 Florida debut? The script would resonate in any era, but its view of growing up in the turbulent and recession-ridden 1970s feels astonishingly relevant today. When this richly evocative material is matched with director Richard Israel's crisp and flavorful staging, the result is scintillating entertainment.
At the heart of this joyous rendition is a star-making performance from young Fenner, who displays a sensitivity, depth, and range beyond his years. As a boy grappling with sexual identity issues and sundry growing pains, Fenner is part Ferris Bueller and part Beaver Cleaver, an irresistibly precocious adolescent who breaks the fourth wall to narrate what initially seems like a nostalgic family sitcom from yesteryear. The piece becomes more profound as character complexities unfold amid a fascinating panorama of 1970s milestones: the Vietnam War, Watergate, widespread unemployment, gasoline rationing, and much more. The wit, warmth, and spontaneity of Fenner's portrayal anchor the densely plotted narrative, keeping it lucid and engaging.
The ensemble is likewise sublime, particularly Jan Sheldrick as Horace's stern but loving mother, Tony Pandolfo as the blue-collar patriarch serving as family peacemaker, Nick Niven as Horace's restless draft-dodging brother, and Nick Ballard as the stunning-looking gym coach who reminds Horace of Olympic swimming champ Mark Spitz. Sara J. Stuckey excels as the retarded neighbor woman who belatedly becomes a crucial character. Acing a number of small roles are Madelynn Fattibene (divine as the hate-mongering Bryant) and Sean Owens.
Stephen Gifford's treehouse-dominated set is deliciously atmospheric, as are Susanne Klein's costumes, Lisa D. Katz's lighting, Fionnegan Justus Murphy's sound, and Marty Kopulsky's hair and wig designs. This enthralling dramedy provides an ideal antidote for the late-summer blahs.
Presented by West Coast Ensemble at the El Centro Theatre, 800 N. El Centro Ave., Hollywood. Aug. 21–Oct. 4. Fri.–Sat., 8 p.m.; Sun., 3 p.m. (323) 460-4443. www.tix.com.