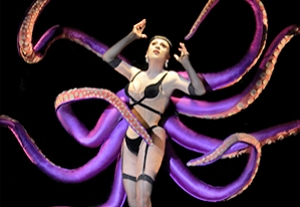 What a fantastic formula: Take two creative geniuses, stick 'em in a dark room full of imagination, and tell 'em to go to towns heretofore unheard of. Or maybe it's a dark New York bar full of…. At any rate, the result is a dazzling performance spectacle where childlike wonder and adults-only material co-exist in a magical world that is much more than a showcase for the talents of drag queen and chanteuse extraordinaire Joey Arias and director and designer Basil Twist, a puppet-master plus. It's an out-of-this-planet experience. Protective headgear is recommended.
This is not to say the mind-blowing production is at all a bumpy ride. No, we follow the incomparable Arias, protector of the Z-Chromosome, through alien abductions, hallucinogenic jungles, 1940s nightclubs, and high above the skyscrapers of New York City. But even though the journey takes us to hell and back, the evening is presented with a loving energy and humor that's edgy and gentle at the same time. Arias has a knockout set of pipes that's insanely versatile and an awe-inspiring ear for arrangements (credit also to Eliot Douglass and Jean Houle Francoise), whether it's Led Zeppelin or jazz standards or soapy, loopy '70s pop ballads, or Alex Gifford's original songs. And the places Twist takes us through set pieces and projections and puppetry—there really should be a better word for the work he does, facilitated onstage by Eli Presser, Kate Brehm, Kirsten Kammermeyer, Matt Leabo, Jessica Scott, and Lindsay Abromaitis-Smith—are nothing short of amazing. Designers Thierry Manfred Mugler, Chris March, Ayumu "Poe" Saegusa, Greg Duffin, and Daniel Brodie complete the picture.
Decidedly New York–centric—which is just as it should be and not at all off-putting—"Arias With a Twist" is a cyber-vaudeville, Busby Berkeley, acid-flashback, kaleidoscopic trip that screams, "Take me!" at the top of its lungs. Do it.
Presented by and at REDCAT, 631 W. Second St., L.A. Nov. 18–Dec. 13. Wed.–Sat., 8:30 p.m.; Sun. 7 p.m. (213) 237-2800. www.redcat.org.