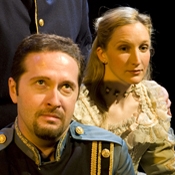 G.B. Shaw combines and satirizes the undying need for love and the obsessive urge to wage war, finding the militarism of warring nations the more objectionable target. One question Shaw raises in this early work is how can a swellheaded soldier get it into his mind that because he's a dashing figure on the field, he must by definition be a great ladies' man? That soldier is Sergius (John Byrd), a Bulgarian army major who wrecks his chances for promotion when he leads an ill-timed charge with a flourish. In the opposing ragtag Serbian army is a mild-mannered conscript from Switzerland with the unpronounceable name of Bluntschli (Sean Cox).
Back home in Bulgaria, Sergius' regiment has Bluntschli's on the run. Seeking safety, the Switzer stumbles into the room of Raina Petkoff (Tanya Raisa Mironowski), a member of one of Bulgaria's first families and Sergius' fiancée. At first Raina is repelled by the soldier's dirty face and torn uniform, but soon she takes pity. He's hungry and exhausted and seems barely able to handle a gun or sword. She loans him her father's coat and helps him escape.
Where Shaw takes us from here is the inevitable return of Bluntschli to the Petkoff home. The war is over, much to the dismay of Raina's ultrapatriotic parents, leaving the door open for Bluntschli to win Raina over. Doing so won't be easy, as she has soured on men, having discovered that Sergius instead loves her maid, Louka (Jennifer Bridge), a lovely young woman with dreams of joining the upper class. While adding numerous original comedic touches, Sally Norton's staging preserves Shaw's comic sensibilities, including his pronounced love of and support for socialism. Byrd offers Gene Wilder-like neuroses, Cox is levelheaded and likable, and Mironowski is a graceful, statuesque ingénue. Bridge shines as the headstrong, forward-thinking maid, and Bart Shattuck, Sharyn Case, and Rick Kopps provide ample comic support to the starring trio.
Presented by and at the Rude Guerrilla Theater,
202 N. Broadway, Santa Ana.
Thu.-Sat. 8 p.m. (Also Sun. 2:30 p.m. Mar. 9.) Feb. 23-Mar. 29.
(714) 547-4688. www.rudeguerrilla.org.