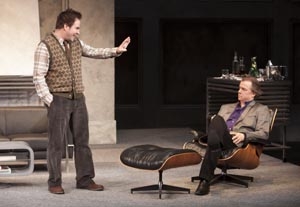 When the 2009 Tony-winning play, "God of Carnage," written by Yasmina Reza and translated from the French by Christopher Hampton, premiered in the U.S, it conjured memories of "Art," the earlier Reza-Hampton success. Both plays explore the ways in which civilized interactions among a group of people can unexpectedly spin into dangerous territory, unleashing a torrent of petty behavior and suppressed antagonisms. The two 90-minute plays feel remarkably similar in dramatic form. While the phenomenon of bourgeois hypocrisy drives the caustic humor in "God of Carnage," in "Art" Reza chose artistic snobbery, pretentiousness, and the challenges and durability of genuine friendship as her themes. Reza's erudite and expertly crafted text is in fine hands in director David Lee's screamingly funny revival, which is graced with the consummate talents and sterling chemistry of actors Roger Bart, Michael O'Keefe, and Bradley Whitford.
The story is set in Paris, though English-language productions go after a vaguely universal feel, as there are no attempts at dialects. Certain French references remain, such as to francs, yet it matters little, as the themes resonate widely. The close 15-year bond among three friends is tested after pseudointellectual art buff Serge (O'Keefe) proudly shows Marc (Whitford) an expensive painting he has purchased that consists of a white background and a few white lines running across it. When Marc dares to scoff at Serge's prized possession as "a piece of white shit," a simmering stewpot of anger begins to boil over. When their pal, the insecure nebbish Yvan (Bart), attempts to make peace amid the escalating tensions, suppressed personality conflicts and unspoken irritations result in an avalanche of hilarious and blisteringly witty confrontations.
The seamless interplay among these pedigreed players brings renewed luster to this deliciously entertaining boulevard comedy. O'Keefe, a master at underplaying, conveys Serge's self-satisfied pretentiousness with the subtle arch of an eyebrow and intonations that drip with thinly veiled condescension. The actor's stiff posture further underlines the character's air of superiority. Whitford, whose comic timing is impeccable, qualifies as a straight man par excellence. In the most broadly comic role, Bart employs Woody Allen–esque characteristics of neurosis and self-deprecation, yet his portrayal is filled with idiosyncratic nuances that are very much his own. With his disheveled hair, challenged self-esteem, and uproarious descriptions of personal travails, he's a comedian at the top of his form.
The incomparable cast provides the strongest reason to catch this oft-produced play once again, while the classy production design (Tom Buderwitz's set, Kate Bergh's costumes, Jared A. Sayeg's lighting) lends the perfect ambience to Reza and Hampton's sophisticated comedic gem.
Presented by and at the Pasadena Playhouse, 39 S. El Molino Ave., Pasadena. Jan. 29–Feb. 19. Tue.–Fri., 8 p.m.; Sat., 4 and 8 p.m.; Sun., 2 and 7 p.m. (626) 356-7529 or www.pasadenaplayhouse.org.