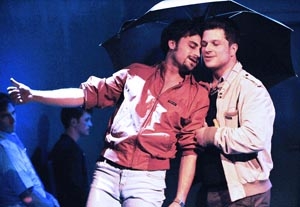 It has been 30 years since the Centers for Disease Control officially acknowledged the existence of the AIDS epidemic and 26 years since William M. Hoffman's Obie-winning, Tony-nominated piece opened, becoming the first play to deal seriously with the subject.
"As Is" is set in the early days of the epidemic, when a diagnosis of AIDS was regarded as a death sentence, and the gay community in particular was still trying to grasp the pains and dislocations that followed in the wake of infection. At the center of the drama are longtime lovers Saul (Mark Shunock) and Rich (Charles Pasternak). We first see them bickering over the division of their joint possessions after their breakup: Rich has left Saul for young Chet (Patrick Stafford). But now Rich has discovered that he has AIDS, and his life has been wrecked: Because of public fear, his restaurant has been put out of business, he is being shunned socially, Chet has abandoned him, and his money is rapidly running out. Saul realizes he can't abandon his former lover, even if his role is reduced to the difficult one of caretaker. He decides to accept Rich "as is" and lend whatever love and help he can.
The kaleidoscopic structure of Hoffman's play allows him to move backward and forward in time and examine the broader social scene: It travels from hospices to gay bars to workers for the AIDS Hotline (Roy Abramsohn and Daniel Montgomery), and the perplexities of those who must cope with a son, friend, or brother suffering from an affliction everybody fears and nobody understands. Hoffman deftly explores the humor (some of it of the gallows variety) as well as the pain of the situation.
Director John Farmanesh-Bocca begins his production with the entire cast onstage, wearing rubber masks of Ronald Reagan, who was president when the epidemic began but refused to acknowledge its existence until six years had passed and 40,000 Americans had died. Farmanesh-Bocca has freshly reconceived the play, carefully exploring its political as well as its human dimensions.
Pasternak provides a multifaceted portrait of Rich, with his rage, pride, denial, desperation, and fear of death. Shunock shines in the even trickier role of a man who musters the courage and loyalty to devote his life to helping the lover who abandoned him. The six-member ensemble—Abramsohn, Mark Cecil, Francesca Ferrara, Montgomery, Stafford, and Vanessa Waters—demonstrates versatility, each actor playing multiple roles with style and skill.
Presented by the New American Theatre at the McCadden Place Theatre, 1157 N. McCadden Pl., Hollywood. Nov. 5-Dec. 18. Fri.-Sat., 8 p.m. (310) 701-0788. www.newamericantheatre.com.