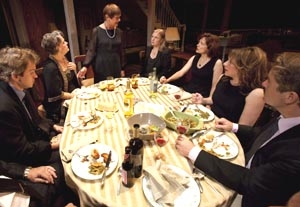 Established playwrights occasionally reinvent themselves, some more successfully than others. "August: Osage County" represents a quantum leap for Tracy Letts, who came into prominence with his poor-white-trash potboiler "Killer Joe" and the creepy-crawly psychological thriller "Bug." Who would have imagined this purveyor of guilty-pleasure theatrics could create an epic American tragicomedy, boasting echoes of O'Neill and Albee? Letts' Tony- and Pulitzer-winning work is an inspired blend of down-and-dirty soap opera, raucous rural comedy, and classic Greek tragedy. Director Anna D. Shapiro's impeccable touring rendition ensures that the juicy pleasures of this ballyhooed play live up to our expectations—and then some.
Family dysfunction in the American hinterlands has seldom seemed so wacky yet heartbreaking. Think Del Shores meets Sam Shepard. The setting is modern-day Oklahoma, in the battle-ravaged Weston household. Blowsy, ferocious matriarch Violet (Estelle Parsons at the top of her form)—suffering from mouth cancer and zonked out on myriad drugs, yet far from speechless—has summoned family members to her home following the disappearance of her alcoholic husband, Beverly (Jon DeVries). A complex web of resentments and recriminations plays out in the ensuing family confrontations, as the calculating Violet struggles to retain control at every turn. Among the scandals surfacing in this marathon three-act opus are chemical addictions, suicide, pedophilia, incest, adultery, and more. A hellish dinner scene serves as a sizzling centerpiece for a story that moves to a harrowing conclusion.
Parsons' performance is a triumph of depth and range, her character at once pitiable and despicable. The actor combines the ruthless determination of Medea with a paradoxical mix of vitriol and vulnerability reminiscent of Albee's harridan Martha. Shannon Cochran is brilliant as eldest daughter Barbara, Violet's fiercest opponent yet a Violet clone in the making. Libby George, as Violet's busybody sister, Mattie Fae, is hysterically funny. As others in the clan, sterling work is delivered by Angelica Torn, Emily Kinney, and Amy Warren. DeLanna Studi offers strong support as a Native-American servant, the sanest household member.
DeVries excels in the play's opening scene as the pensive poet describing his and Violet's bizarre co-dependent union. Paul Vincent O'Connor is wryly amusing and ultimately forceful as Mattie Fae's fed-up henpecked husband, and Stephen Riley Key earns our empathy as her beleaguered young son. Laurence Lau as a predatory fiancé, Jeff Still as a philandering husband, and Marcus Nelson as the sheriff also give first-rate portrayals.
A masterful production design, highlighted by Todd Rosenthal's majestic three-tiered house and David Singer's haunting original music, gives the show a high-charged Gothic atmosphere. Letts' strength at writing high-strung characters in calamitous encounters, peppered by elements of shock, proves a serendipitous match with the genre of well-made domestic drama. Welcome the arrival of a great American playwright.
Presented by Steppenwolf Theatre Company and Center Theatre Group at the Ahmanson Theatre, 135 N. Grand Ave., L.A. Sept. 9-Oct. 18. Tue.-Fri., 7:30 p.m.; Sat., 2 and 8 p.m.; Sun., 1 and 6:30 p.m. (Also Thurs., 2 p.m. Oct. 8 and 15. Dark Sun., 6:30 p.m. Oct. 11 and 18.) (213) 972-4400. www.centertheatregroup.org.

Note: One of the cast members of "August: Osage County," actress Emily Kinney, is a blogger for Back Stage's Unscripted.