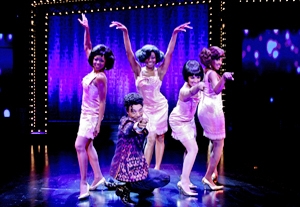 In the tradition of "Dreamgirls," librettists Colin Escott and Floyd Mutrux unveil their world-premiere bio-tuner "Baby It's You," which follows the career of the Shirelles, a doo-wop girl quartet popular in late 1950s and '60s. Yet the central character in this jukebox musical is ostensibly the woman behind the phenomenon: bored Jewish housewife Florence Greenberg (Meeghan Holaway) from New Jersey, who discovered the Shirelles, then launched the group's career as well as a record label. Though the show is musically appealing, the book is sketchy and vapid. This vehicle plays out more like a glorified revue than as a revelatory showbiz saga.
Providing the shaky framework is a disc jockey, Jocko (Geno Henderson), appearing in various clubs during the show's shifting eras (1958–65). Jocko's narration and nostalgic projected images (Jason H. Thompson) make a half-baked attempt to place the rise and decline of the Shirelles' career within the context of historical signposts—such as Bob's Big Boy and the Kennedy family's Camelot reign. Almost 40 vintage songs—Shirelles tunes plus those of others—are clumsily wrapped around fleeting patches of dialogue. Out of nowhere, actors portraying other performers, such as Lesley Gore and Dionne Warwick, take the stage to belt out their chart-topping hits. Jarring stylistic inconsistencies add to the confusion. In a silly early scene, we meet Florence and her husband, Bernie (Barry Pearl), each presented in broad comic strokes. We're later expected to accept them as vulnerable, fallible humans when entrepreneur Florence and her African-American business partner, Luther Dixon (Allan Louis), indulge in an adulterous interracial affair.
Holaway, Pearl, and Louis are accomplished actor-singers hampered by the hackneyed writing. Henderson elicits sparks in multiple roles. The actors playing the Shirelles (Erica Ash, Berlando Drake, Paulette Ivory, Crystal Starr Knighton) lend panache to their production numbers; unfortunately, the script supplies no distinct characters for them to portray.
Choreographer Birgitte Mutrux, music director Adam Irizarry, and the design team achieve a handsomely packaged production. For those who might not care about Greenberg and the behind-the-scenes story, the show's glittery pleasures might suffice. Nonetheless, major libretto retooling is needed prior to a hoped-for Broadway run.

Presented by American Pop Anthology, Warner Bros. Theatre Ventures, and Universal Music Group in association with and at the Pasadena Playhouse, 39 S. El Molino Ave., Pasadena. Nov. 13–Dec. 13. Tue.–Fri., 8 p.m.; Sat., 4 and 8 p.m.; Sun., 2 and 7 p.m. (626) 356-7529. www.pasadenaplayhouse.org.