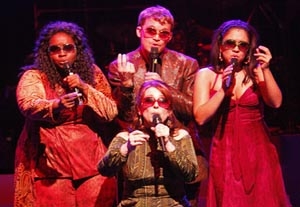 Promises, promises, indeed—some are kept, others less so, in this intermittently entertaining jukebox revue spotlighting the hits of the 1960s and '70s pop songwriting duo of composer Burt Bacharach and lyricist Hal David. Original co-conceivers Kathy Najimy and Steve Gunderson also stage this edition of the 1993 Off-Broadway show, revamped at the spacious Fonda as an odd cross between a rock concert and a cabaret act. It scores solidly when unpretentiously delivering the goods, reveling in the irresistible melodies and wistfully romantic lyrics. It's less enchanting when attempting to impose silly interpretations on the material or to blast us with over-amplified sound and dizzying lighting effects, which are at odds with the songs' chic pre-1980s easy-listening style.
Baby boomers will be intimately familiar with the chart-topping numbers Bacharach and David wrote for superstar singers such as Dionne Warwick ("Walk on By") and Dusty Springfield ("Wishin' and Hopin' "). Broadway buffs know of the partners' sparkling score for the 1968 musical
Promises, Promises
. And movie fans can certainly hum the prolific team's film songs, such as "Raindrops Keep Falling on My Head" (from
Butch Cassidy and the Sundance Kid
) and the jaunty title ditty from
What's New Pussycat
?. These well-known tunes—plus others, such as "Close to You" and "Message to Michael"—provide the evening's highlights.
Four talented performers enjoy individual moments to strut their stuff. Tressa Thomas, a sassy belter, leads her co-stars in the fabulous gospel-flavored "Let Me Be Lonely." Tom Lowe taps into the rueful power of the gorgeous ballad "Alfie" Susan Mosher does likewise in her swell rendition of "Always Something There to Remind Me." Sultry chanteuse Diana DeGarmo is at her best in "Don't Make Me Over." The large projections shown on the back wall are particularly effective during a medley in which we view images of war, racism, discrimination against gays, and other examples of human suffering, ending with the stirring group number "What the World Needs Now Is Love." Songs from the 1973 movie-musical remake of
Lost Horizon
—a resounding fiasco, which featured a warbling Peter Finch and Liv Ullmann channeling Julie Andrews—are wisely excluded.
Presented by and at the Music Box @ Fonda, 6126 Hollywood Blvd., Hollywood.
April 19–May 17. Variable schedule. www.etix.com
.