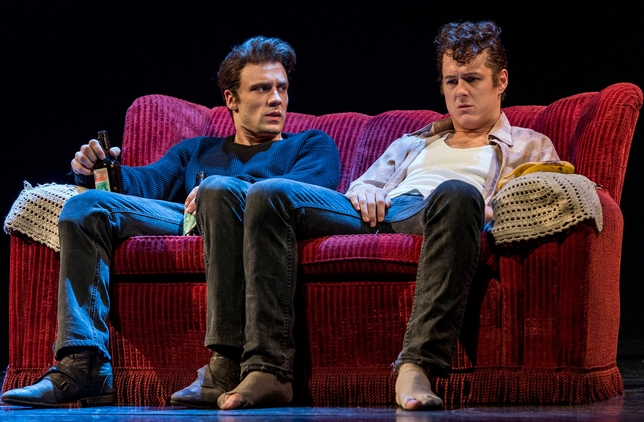 Somewhere at the intersection of high and low art sat Stuart Sutcliffe, a man who achieved fame in neither realm despite immense cross-genre talent and buckets full of personal magnetism—or so the makers of "Backbeat" maintain. To most of us Sutcliffe is the answer to the trivia question, "Who was the fifth Beatle?" To writers Iain Softley and Stephen Jeffreys—who have adapted the 1994 film directed and co-scripted by Softley—the personal and professional struggles of original bassist Sutcliffe belong front and center, while the game-changing endeavors of those other lads from Liverpool are the backdrop. If you're examining the birth of the Beatles through this particular prism, that's a rather sizable burden for whoever picks up Sutcliffe's bass and dons those trademark sunglasses.
Nick Blood, who played the role in the show's London and Toronto engagements, is largely up to the task. Possessed of transformable good looks, an edgy and occasionally scratchy voice, and the ability to stand as still as a flamingo, Blood effectively layers a character who is a tormented enigma. It helps that this loud but never dull "play with music," directed by David Leveaux, positively fetishizes him. In addition to lush projections by Timothy Bird and Nina Dunn, "Backbeat" is suffused with dialogue references to Sutcliffe's "artist's hands," chain-smoking, and general coolness.
George Harrison, Paul McCartney, and original drummer Pete Best are almost interchangeable supporting players as "Backbeat" charts the years from 1960 to 1963, when the band was grinding out seven-hour nightly sets in a Hamburg dive bar. The accommodations were mean, sex and drugs were plentiful, and if the lads were itchy for greater glory, well, at least they could rock. Then Sutcliffe falls for German photographer Astrid Kirchherr (Leanne Best), and the high art/mean art dichotomy snaps into focus. Ironic, this, as Astrid helped midwife the birth of the Beatles by providing their mop-top haircuts and Edwardian suits.
There's an interesting creative love triangle at play between Sutcliffe, Kirchherr, and John Lennon, who Andrew Knott, in the evening's other star turn, renders as a kind of clownish bully who nonetheless worships at the altar of Sutcliffe. That both Kirchherr and Lennon are, to varying degrees, in love with this man works against Best's character-building, because Kirchherr is essentially defined by her devotion to her man rather than by any individuality. Knott at least gets to mix it up with Daniel Healy's McCartney and power out lyrics during the musical numbers.
About those numbers: Band worshipers looking to drink in the hits might do better to wait for Rain. The soundtrack of "Backbeat" is composed largely of covers of '60s hits: "Good Golly Miss Molly," "Rock and Roll Music," "Long Tall Sally." Under Paul Stacey's musical supervision these songs decidedly rock, but not with a Beatles imprint. We get a whiff of things to come as McCartney and Lennon quietly create "Love Me Do." Otherwise, "Backbeat" is "The Stuart Sutcliffe Show" and "The Birth of the Beatles"—in that order.
Presented by Center Theatre Group and Karl Sydow, in association with Glasgow Citizens Theatre, at the Ahmanson Theatre, 135 N. Grand Ave., L.A. Jan. 30–March 1. (213) 972-4400 or www.centertheatregroup.org. Casting by Julia Horan.
Critic's Score: B+