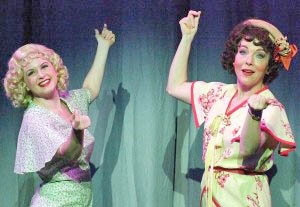 Ginger Rogers (1911–95), who enjoyed an illustrious Hollywood film career, remains best known as Fred Astaire's onscreen partner in dance and romance in beloved musicals produced at RKO Pictures. This musical biography, conceived and developed by Lynette Barkley and Christopher McGovern, makes its West Coast premiere in a stylish production. A talented cast and director-choreographer Rob Barron's sprightly staging ensure a nonstop delight.
In McGovern's skeletal book, we observe the highlights of Rogers' (Melissa Wofklain) debut in vaudeville, learn of her five failed marriages, and witness her quick ascent to stardom. Astaire (charmingly played by Cody Walker) appears in the second act, and we get glimpses of the dancing duo's collaborative projects, which are consummately performed by Wofklain and Walker, credibly filling the dance shoes of these legendary performers. The narrative ends in 1941, when Rogers accepted her acting Oscar for the dramatic film "Kitty Foyle," opening a new chapter in her career. We don't see her subsequent career triumphs, such as her celebrated stint amid the long parade of Dolly Levis succeeding Carol Channing in Broadway's long run of "Hello, Dolly!" What elevates the show beyond a cavalcade of biographical snippets is the warmth of the relationship between Ginger and her hard-driving divorced mother, Lela Rogers (Cynthia Ferrer). Lela is shown as a tenacious parent who kept her hands in all forms of show business, including screenwriting. There are shades of "Gypsy" in this tale of a stage mother and her gifted, feisty daughter. The chemistry between Ferrer and Wofklain is remarkable. Ferrer is a splendid singer, getting her turn in the spotlight in songs such as "You'll Never Know." Wolfklain has more than her share of riveting showstoppers, including "Fascinatin' Rhythm" and "But When." The score primarily consists of evergreen music of the 1930s and '40s, augmented by McGovern's original songs, providing a felicitous mix.
The spell becomes complete with Dwight Richard Odle's chic scenic design, Mela Hoyt-Heydon's costumes, Donna Ruzika's lighting, and Todd Helm's smashing music direction and conducting.
Presented by FCLO Music Theatre at Plummer Auditorium, 201 E. Chapman Ave., Fullerton. Feb. 12–28. Thu.–Sat., 8 p.m.; Sun. 2 p.m. (Also Sun., 7 p.m., Feb. 21 and Sat., 2 p.m., Feb. 27.)  (714) 879-1732. www.fclo.com.