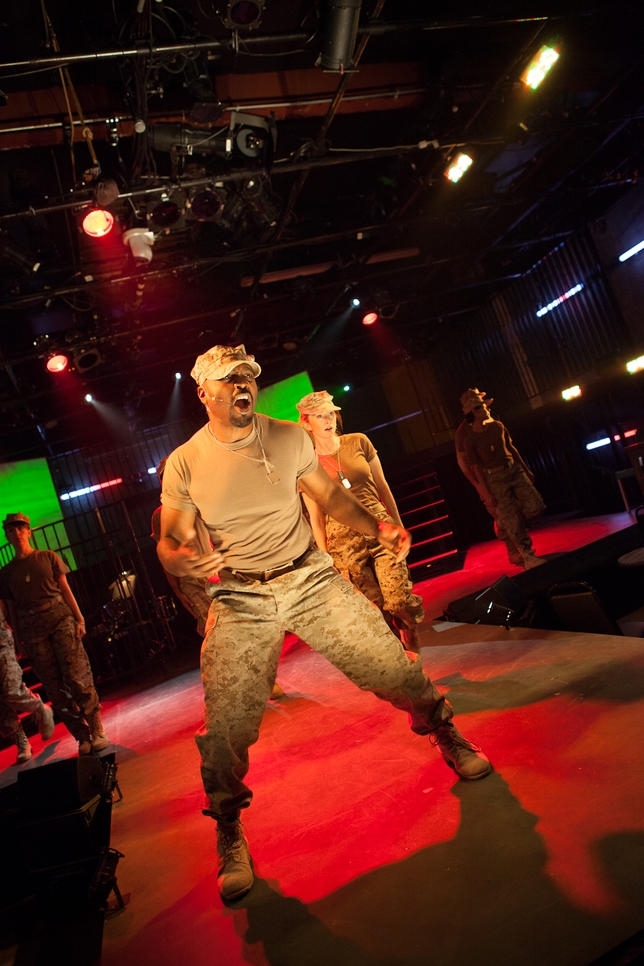 Shows such as "Chicago" and "Assassins" prove that musical theater is not just for cutesy love stories; it can be a powerful medium for dark humor and bleak topics. Circle X Theatre Co.'s world-premiere musical "Bad Apples" attempts something in that vein, and the results are mixed.
"Bad Apples" tells the story of Iraqi prisoner torture in Abu Ghraib. It portrays the intensely stressful lives of the American soldiers involved and shows how the pressures of war led them to take part not only in abusive behavior toward their prisoners but also in destructive sexual relationships with one another.
Beth Thornley and Rob Cairns have written a memorable score that varies in style from Beastie Boys–inspired hip-hop to pop ballads. While all of the music and lyrics are engaging, not every song serves a purpose. One of the show's weakest elements is that with three acts it is too long. Slow numbers such as "Surrender" and "All These Things" are pretty, but they don't serve the story and only add to the running time. It isn't just the score that needs trimming, though; Jim Leonard's book has us watching Sept. 11 terrorists ordering pizza for about 10 minutes and allows soldier Lindsay Skinner a few too many long phone calls home.
The script deals with disturbing subject matter and does so in a way that is thought-provoking and even entertaining. But one of the musical's other problems is that when walking the line between provocative and offensive, the humor sometimes falls more on the latter side. The writing isn't overtly malicious, but that doesn't mean some military service members, Muslims, and working-class American Southerners won't leave the show upset.
Circle X has brought together a very talented cast. Kate Morgan Chadwick, in the central role of Pvt. Skinner, accomplishes the difficult task of portraying a young woman who is at the same time naive and jaded. Chadwick sings with a confident, affecting voice. James Black is funny, sexy, and intimidating in the role of Sgt. Shepard, the love interest of two female soldiers. He easily wins over the audience with smooth dance moves and powerful singing in his first song, "Thin Red Line." Meghan McDonough gives Lt. Scott a tough militaristic attitude, though her vocal performance is shaky at times. Ian Merrigan, as a morally conflicted PFC nicknamed Cunny, performs beautifully on his solo, "Cunny's Hymn." Everyone in the supporting cast tackles multiple roles and keeps the show's energy high.
Director John Langs' staging allows actors to seamlessly transition from the Pentagon to Iraq to American homes. Cassandra Daurden's choreography cleverly incorporates military-inspired marching and saluting. The industrial set by François-Pierre Couture, lighting by Jeremy Pivnick, and projections by Jason H. Thompson all work within an effective, tightly knit design scheme.
As a first draft, "Bad Apples" is certainly interesting, but it is begging for extensive edits. While it will need a rewrite or two before its next incarnation onstage, its cast and design could not be better.
Presented by Circle X Theatre Co. at Atwater Village Theatre, 3269 Casitas Ave., L.A. Oct. 13–Feb. 2. (323) 644-1929 or www.circlextheatre.org.
Critics Score: B-