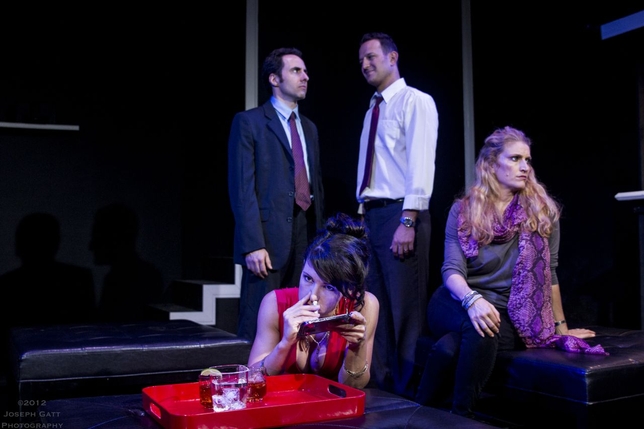 "Bad Evidence" is a well-acted, well-directed production of a flawed play about dysfunctional, enigmatic relationships. The promotional material likens this effort by playwright Terry Quinn to "Who's Afraid of Virginia Woolf?" To make that comparison is to have delusions of grandeur, as "Bad Evidence" lacks the depth, grit, and bitingly dark humor of Edward Albee's classic work.
The story begins with Leah (Glory Simon) and Richard (James Wagner) in bed. She awakens and stares at him, obviously troubled, finally rousing him. She claims to be upset because she feels the party they just gave was a failure. He disagrees and wants to sleep, but Leah is determined to air festering grievances, beginning with her resentment of Richard's close friend Charlie (Chuck Raucci).
One bone of contention leads to another as their emotions escalate. She accuses him of sleeping with their neighbor Danielle (Mercy Malick), and he finally admits it. She confesses to having unplugged his tubes on purpose when he was hospitalized, but he insists that she's lying. One is never sure if the confessions are true or fabricated, but as constructed the Sturm und Drang seems to be much ado about nothing. Though Simon and Wagner valiantly try to breathe life into the contention between their characters, the conflict comes across as contrived. The two perform with total commitment, but the playwright doesn't give us the opportunity to become invested in the characters before attempting to create a crisis that quickly becomes banal.
Scene 2 is more alive and engaging, though not much deeper. Danielle brings Jeremy (Ryan Fox), a state assemblyman, to her house and begins to seduce him. Her husband, Kevin (Justin Sintic), comes home and discovers them behaving inappropriately, but while there is an edge to his behavior, he provides drinks and cocaine. Leah enters, determined to learn whether anything happened between Danielle and Richard, who arrives soon afterward with Charlie. Intimacies between some of the characters are implied, but it is never certain that they actually occurred, except for one unexpected relationship verified with photographs, which may be intended as a bombshell but given the shallowness of the proceedings is only a mild surprise.
The performances help redeem the script's weaknesses. Malick's wild, seductive, smooth, and multilayered work is largely responsible for bringing life to the second scene. Fox gives a full-blown, varied, frequently amusing performance as the apparently stiff politician who is terrified that constituents may learn of his dalliances but slowly lets his hair down, to the point of snorting some coke. Sintic has a magnetic stage presence and projects a fascinating sense that there is turmoil boiling beneath the surface. Raucci is totally uninhibited as the life of the party yet has a genuine moment of vulnerability when his character fears that he is being disdained.
Director Katie Sabira Rubin has done an admirable job with mediocre material.
Presented by Rise and Shine Productions at Elephant Space Theatre, 6322 Santa Monica Blvd., L.A. Nov. 3–Dec. 9. (323) 960-7712 or www.plays411.com. Casting by Raul Clayton Staggs.
Critic's Score: B-