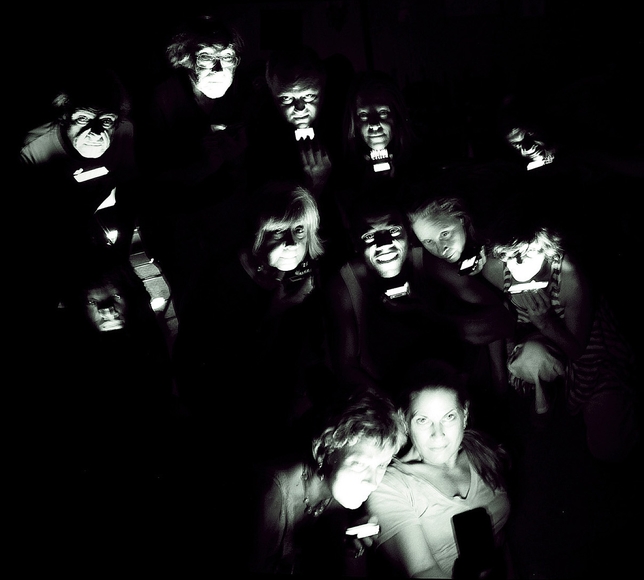 There's no doubt about it: The Odyssey Theatre Ensemble's "Beyond Dark" is an experience, an evening of theater in which audience and actors operate pretty much completely in the dark. I don't mean metaphorical dark or any-number-of-shades-of-gray dark. I mean pitch-black, you-can't-see-your-hands-in-front-of-your-face dark. Sound becomes textural, fleeting hints of light are palpable, and we can only sense the presence of the performers from voices coming at us or bodies brushing by us. The show is a fun and fascinating experiment full of unexpected curves.
Conceived by Ron Sossi and dramaturge Sally Essex-Lopresti, the evening is culled from the company's two previous Theatre in the Dark Festival offerings. It begins with Anna Nicholas' "Our Dark Connection," a cute intro that erases traditional boundaries and invites us to sit back and, yes, even close our eyes. Sossi directs this opener and most of the other works, along with writing the comic "Womb." Other new plays commissioned for this production are Lynn Manning's "The Outpatient," an overwhelming aural glimpse into the world of a man who's temporarily blinded; the haunting "Ghosts," by John O'Keefe; and Ernest Kearney's intriguing "One of the Lost." Nicholas, part of the 11-member acting ensemble, also wrote (with the company) the mouth-watering "Elegant Dinner," one of the only works featuring a brief but striking visual (a nod to lighting designer Kathi O'Donohue).
Another effective company-created piece, this one composed purely of sounds, is "Prehistoric Hunt," directed by Jeremy Aluma. More-traditional offerings given a thrilling spin are selections from Edgar Allen Poe's "The Tell-Tale Heart," Friedrich Durrenmatt's "The Tunnel," and playwright Dorothy Fortenberry's "Species Native to California," the last directed and performed by Denise Blasor. A good time is had by all in "Forbidden Fire,' a naughty radio drama by Danny Robins and Dan Tetsell, and John Zalewski's more-than-fabulous sound design creates one of the most memorable characters of the night in Matei Viesnec's "Eaten," directed by David Bridel. Appealing performer Beth Hogan creates a personal connection with us during her two wonderfully sensory chats, but kudos to the entire accomplished ensemble, which also includes Alan Abelew, Marcia Battise, Blasor, Ron Bottitta, Sheelagh Cullen, Jean Gilpin, Kristina Lloyd, Cary Thompson, and Terry Woodberry.
Ultimately, the party mix of material ends up being a bit long and uneven, but it has enough treats to keep us from squirming too much in our seats as we pass the promised 90-minute threshold. Not surprisingly, with little to look at many of those goodies come from mad-genius designer Zalewski, whose work is nothing less than amazing. At the end of the performance, when the lights come up, we also get a "Wow" out of the contribution from scenic designer Simon Schabert. It's something you just have to see.
Presented by and at the Odyssey Theatre Ensemble as part of the Theatre in the Dark Festival, 2055 S. Sepulveda Blvd., L.A. Jan. 5–Feb. 9. (310) 477-2055 or www.odysseytheatre.com.
Critic's Score: B